UPDATE: Due to COVID-19 and a recent recommendation by the CDC to cancel or postpone events with more than 50 people for eight weeks (http://ow.ly/OiPg50yMUE1), we have decided that it is in the best interest of our readers to cancel this year's Kids Expo. Please email [email protected] with any questions. We appreciate your support.
The second weekend of February, Triton Robbins competed in a monster truck event in Virginia. The weekend before, he was in Georgia. The next weekend, he was heading to Alabama, followed by trips to South Carolina and Georgia to close out the month.
So how does the high school senior balance driving his monster truck, Krazy Train, with school and other activities?
"It's a lot of work to keep everything straight," he says. "I'm actually interning every Monday and Friday at my house to fix these trucks and keep them running every weekend."
Krazy Train will return for the Family Times' annual Kids Expo on May 9, 2020 at the NYS Fairgrounds.
Triton is a second-generation driver. His father, Bob Robbins, has been involved with monster trucks for nearly 20 years, and used to tour with Monster Jam. "I've been dragging him on the road for his whole life, so that's where he probably got [that interest] from," Bob says. Triton began driving Krazy Train in May of 2018. He was just 16 years old at the time.
"The first time I drove it, I actually ripped off a wheel," he says. "It was a lot of fun to drive, but a little frustrating coming out with a new truck and breaking it."
For Triton, Krazy Train is a family affair. Bob and his wife Kim are the owners, and younger brother, Montana, is the crew chief of the family's two monster trucks (Bob says Montana will eventually take over as the driver of Plane Krazy, which they added to their lineup earlier this year). The family competes almost year-round – the season began in late January and will run until December.
"That's why we do it; it's a family business," Bob says. "It keeps our family together."
Bob is currently driving Plane Krazy, even competing against Triton at several recent events. "It's been a lot of fun since I've been watching him drive forever, since I was a little kid," Triton says. "Like I told him, the only reason why I'm wrenching on it when it breaks is so that I can get back out there and beat him again."
But he says the best part of driving Krazy Train has always been interacting with the fans.
"We wouldn't be able to do it if no one came out and attended the shows," Triton says.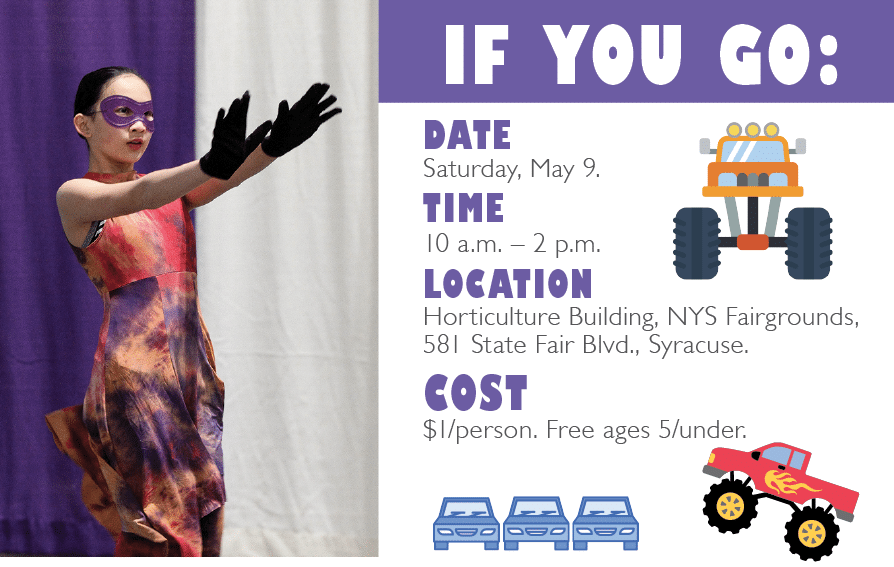 Kids Expo 2020
On May 9, the family's trucks will be on hand for a live demolition outside the Horticulture Building. Families can catch plenty of other entertainment inside throughout the day, including cheerleading, dance and magic performances.
This year's event will again feature numerous activities (henna, petting zoo), vendors (Usborne Books, Mary Kay) and exhibitors (schools, after school activities, summer camps and more). The Onondaga County Sheriff's Department, New York State Police and Syracuse Police Department will also be in attendance, along with several food vendors.