Kayla McKeon's time with Special Olympics New York began on a soccer field. And it didn't take long for her parents to also become involved.
"She fell in love with it right away," Mark says. "She made a lot of friends, loved the competition, and just met a whole lot of parents and people in the same situation that we were. We probably watched for about a month and we said, 'No, we need to get involved.'"
Twenty years later, the Central New York family continues to participate year-round, Mark and his wife Patti as coaches, and Kayla as a multisport athlete (now 32, she is also the first lobbyist in Washington, D.C. with Down Syndrome). The chapter is celebrating
its 50th year in 2020.
Special Olympics was founded in 1968 by Eunice Kennedy Shriver, and the New York chapter was incorporated two years later. It has since grown to become the largest such program in the country, with more than 67,000 athletes participating. Today, Special Olympics New York offers 22 Olympic-style sports throughout the year, and partners with schools state-wide – 220 to be exact, according to its President and CEO Stacey Hengsterman – to offer Unified Sports. Though the chapter will celebrate the milestone with activities throughout the year, Hengsterman says that isn't the only focus.
"We're working to really grow this unified generation of young people that are growing up differently than they did 50 years ago, 30 years ago," she says. "When you saw someone with an intellectual difference, your parents might have told you to be polite, look away, don't stare, and really that meant they didn't get to know anybody. I think these young people that are growing up now, they see more inclusion in their schools and they know that they can be polite while still asking questions, finding out what the difference is, and they become friends. That unified generation I think has a lot to teach everybody, and that's what we're really
spending our time cultivating for our 50th anniversary vision."
"My daughter likes to say, 'If you come once to cheer on, you're hooked for life.'"
– Mark McKeon, Special Olympics New York coach
Also in 2020, the Fall Games will return after a five-year absence. Hengsterman says that approximately 1,000 athletes will compete in softball, golf, cycling, equestrian and more in Glens Falls.
"We have competitions every single day, but for our athletes, what they work for and they compete for and they beat out their teammates and neighbors for is to get to that state-wide games," she says. "They're very excited about that, and I think that's something that we really owed to our athletes."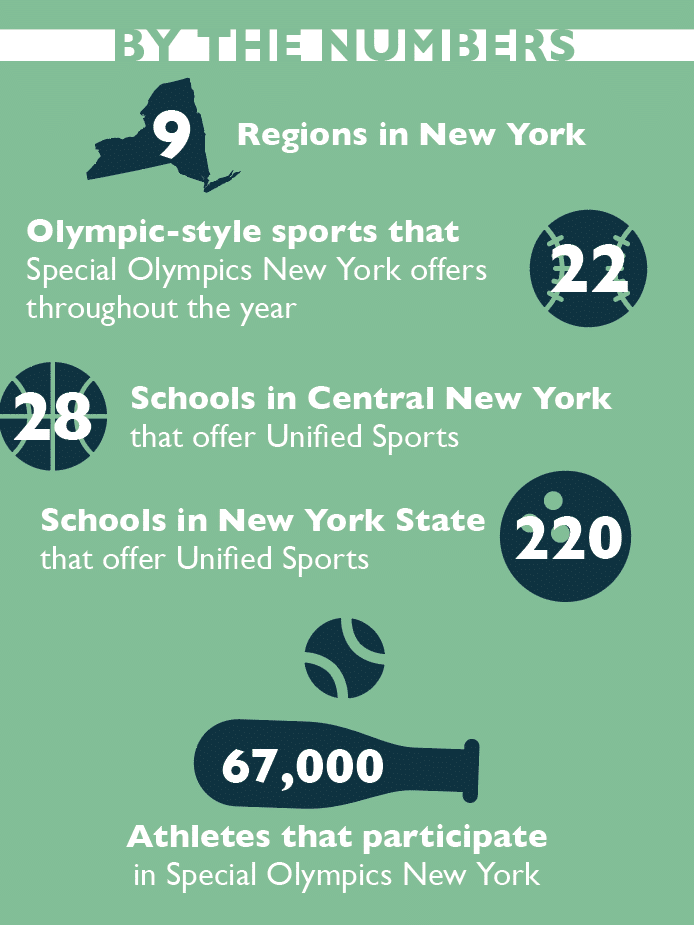 How to Volunteer
In February 2021, the Winter Games will return to the Syracuse region for three years, and Special Olympics New York is currently
looking for people for its games organizing committee. Day of event opportunities and coaching positions are also available.
"It's something that everybody and anybody can get involved in," Mark McKeon says. "My daughter likes to say, 'If you come
once to cheer on, you're hooked for life.'"
For more information on how to volunteer, visit specialolympics-ny.org.