Candied Carrots
Ingredients:
1 lb. carrots peeled and sliced into ½ inch pieces
2 tbsp. butter
3 tbsp. brown sugar
¼ tsp. salt
⅛ tsp. pepper
1 tbsp. chopped parsley
Instructions:
Place carrots in large pan. Add 1 cup of water. Bring to a simmer and cook for 8-10 minutes, or until tender.
Drain water and return pan to stove over medium heat. Add brown sugar, butter, salt, and pepper.
Cook for 2-3 minutes, or until butter and sugar have melted and carrots are coated in glaze.
Sprinkle with parsley and serve.
— Lesli Mitchell
Creamy Sweet Potato Bisque
Ingredients:
4 cups baked sweet potato
4 cups water
1⅓ cups low-fat cottage cheese
2 tbsp. apple cider vinegar
1 tbsp. chicken bouillon
1 tsp. each cinnamon, garlic powder
½ tsp. sugar
Dash each ginger, black pepper
Instructions:
Blend all the ingredients together until completely smooth, then heat on stove or in the microwave.
— Leanne Ziemba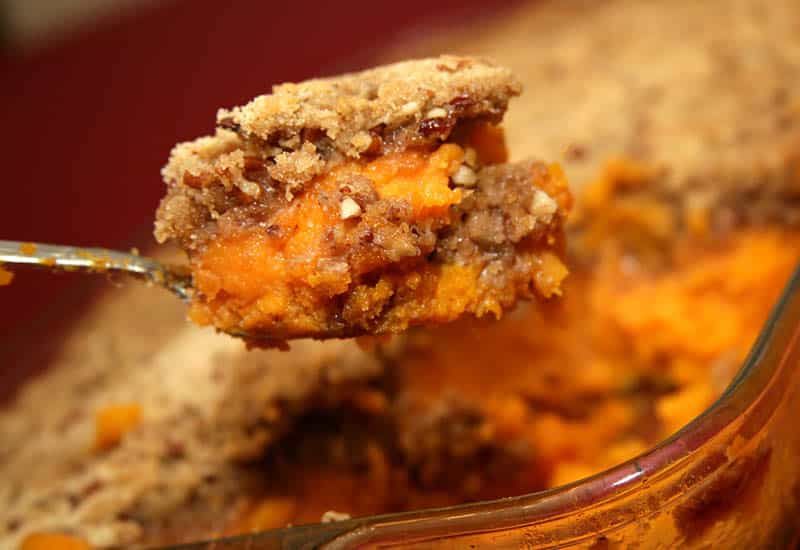 Butternut Squash Casserole
Ingredients:
1 butternut squash
1 cup white sugar
1½ cups milk
1 tsp. vanilla extract
1 pinch salt
2 tbsp. all-purpose flour
3 eggs
¼ cup margarine, melted
½ (16 oz) package vanilla wafers, crushed
½ cup margarine, melted
1 cup brown sugar
Instructions:
Preheat oven to 425 degrees.
Microwave butternut squash on high for 2-3 minutes until soft. Remove seeds from squash then cube.
Bring water to boil in large pot. Cook squash for approximately 15 minutes, until tender. Drain well, then mash.
Mix 3 cups squash, white sugar, milk, vanilla, salt, flour, eggs, and ¼ cup melted margarine.
Bake for 45 minutes, or until set.
Mix crushed vanilla wafers, ½ cup melted margarine, and brown sugar. Sprinkle over casserole and bake until brown.
— Kathryn Guglielmo (from mysaffronapp.com)

Grandma Lil's Stuffing
Ingredients:
1 bag Martin's Potatobred Soft Cubed Stuffing
1 container vegetable broth
1 cup chopped onion
1 cup chopped celery
1 tsp. poultry seasoning
Instructions:
Preheat oven to 350 degrees.
Dice onions and celery. Add to skillet with butter and poultry seasoning, then sauté until soft.
In large bowl, combine onion-celery mixture and bread cubes. Slowly add vegetable broth and mix until moist. Add additional poultry seasoning to taste.
Pour mixture into pan, then bake for 30-45 minutes until crust forms on top.
— Courtney Kless

Candied Pecans
Ingredients:
2 cups pecans
1 cup brown sugar
1 tsp. salt
½ tsp cinnamon
4 tbsp. water
Instructions:
Cook mixture on medium until fully mixed together.
Add pecans and cook for 2 minutes.
Spread on parchment paper to let cool.
Enjoy.
— Lesli Mitchell