At just 12 years old, Amiah Crisler has already learned the importance of building a well-balanced life. For her, creativity is an important aspect of that. But this wise young painter, who just completed sixth grade at Ed Smith Pre-K-8 School in Syracuse, is already looking beyond her own work. She's planning a career to help other young people find their own creative paths.

Amiah is a two-time first-place winner of the youth division of the Family Times Street Painting Contest, in which participants use chalk to create art on sidewalk squares on Montgomery Street near downtown Syracuse's City Hall. She also won the People's Choice Award in the competition last year. But her preferred medium is acrylic paint. Her parents, Kelly and Shaun, helped Amiah set up a small studio in their Syracuse home.
"Art was always one of my favorite subjects, and something that I loved to do at school, especially at a young age," Amiah says. "I remember my mom always telling me that I would always come home with drawings, finger paintings, and different pictures. I probably really started when I was about 4."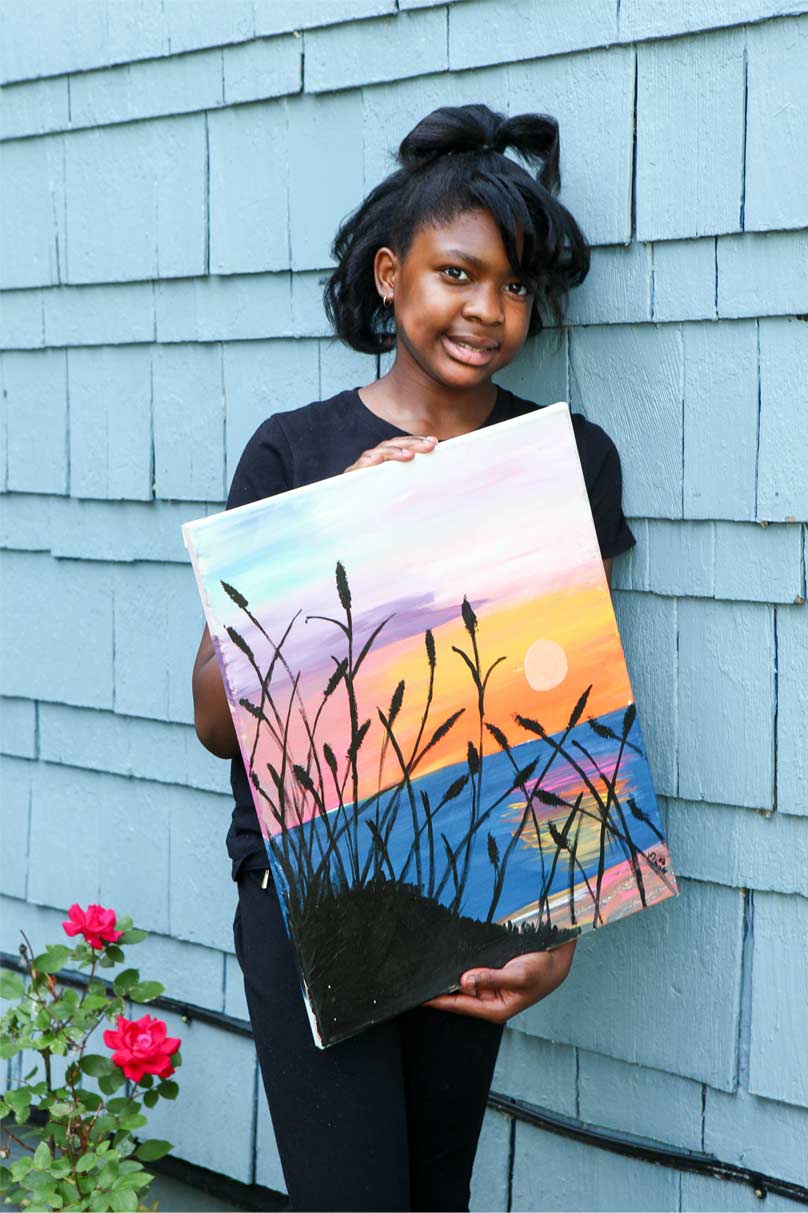 A Painter Paints
For as long as she can remember, Amiah has enjoyed not only the process of creating art, but also the responses. "I remember, probably when I was about 7, my mom bought me an acrylic set for Christmas. I did my first-ever painting—which was a flower." She still has it upstairs in the bathroom.
Amiah figures she has completed about 48 paintings so far. And she has started to branch out into other mediums. Pottery is a growing interest. Various projects are displayed in the family's living room, which doubles as her sister Aubrey's gymnastics practice space.
When asked if she thinks schools give enough attention to the arts, Amiah hesitates. "I think schools should go deeper into art or have field trips. We could go to the YMCA and learn about wheel throwing. Or we could have a painting day maybe like once a month. I feel that that's important. Art can encourage people to find out who they are and who they want to be."
For the past four years, Amiah has worked with a private teacher: Patti Stevens at Shades of Orange. "If I get stuck, she encourages me to keep going and see what happens instead of just giving up and starting all over," Amiah says. "She has helped me learn different techniques, recognize patterns and learn about color schemes."
She likes to follow other young artists online and share thoughts on inspiration and creativity. "I do look at online paintings. Actually, the way I learn best is to look at cartoon versions of things I want to paint," Amiah says. "The realistic versions are actually harder to paint. I look at the cartoon versions and (they end) up being more realistic when I paint them."
Amiah isn't sure that she has a distinct artistic style of her own yet. She says her work is distinguished by her love of vibrant color. This was definitely a factor in both drawings she did during the Family Times Street Painting Contests.
"The first was a peacock, and it was actually (based on) one of the first oil paintings I did," she says. "The second one I did was an abstract dog; I call him Sherbet because I used a lot of different colors.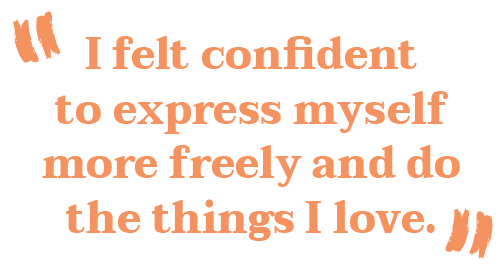 "When I was drawing Sherbet, people stopped me and said that they saw a lot of different animals in him. That's one reason why I think it's pretty popular. There are animals like monkeys, birds, baboons, chickens. People just saw a lot."
Amiah entered the contest the first time on a whim. "It wasn't my intent to win first place," she says. "My intent was to have fun." As for her idea for this year's contest, she says she would prefer to keep that a secret.
Inspiration, she says, can come from anywhere. "For example, when I am painting, I like to see an image and—I like to say—Amiahfy it, kind of put a twist on it. During the winter, I like to paint animals. During the spring and summer, I like to paint flowers. It goes on from there."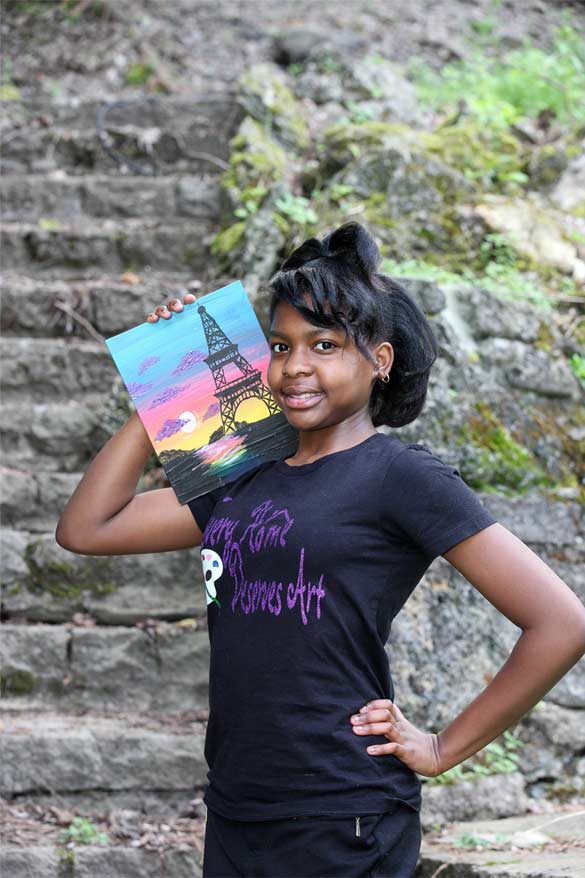 Art for All
For the past year or so, she has been running a website—Artsy Amiah—to sell copies of her prints and a few merchandised items featuring her paintings. The positive feedback has built her confidence. "I was ready because my followers gave me that comfort. I felt confident to express myself more freely and do the things I love."
Crisler's parents help her navigate every step of her online business. Sherbet is available on T-shirts, and a few other designs have been fashioned into hats and specialty items. (Joe Inzalaco of The Studio 15 in Syracuse assists the Crislers with the merchandising.) They are careful to ensure that social media and her entrepreneurial ventures do not become too much of a priority.
"We want her to keep having her creative freedom," says Kelly Crisler. "Also, we want her to have time for other things, time to just be a kid."
Amiah's 10-year-old sister, Aubrey, is just as enthusiastic about gymnastics as she is about her art. Kelly Crisler, a Ph.D. candidate who has worked as an educator for 15 years, says she and her husband have always approached parenting with the idea of letting their girls follow their individual strengths. "I've always said, 'If that's what you're gravitating to, let me support you.'"
Even Amiah's lessons with Stevens of Shades of Orange are relaxed. Kelly Crisler says, "She will give her a challenge and offer suggestions. She uses open-ended questions to get Amiah thinking about her painting instead of rigid instruction."
Stevens, who has been teaching in her Syracuse studio for over nine years, says Amiah exemplifies many of the reasons she started teaching art.
"She is so easy to guide and teach because of her eagerness to learn new techniques," Stevens says. "When she is painting or drawing, she creates without fear, and her free spirit really shows through. I have loved having her in my many classes and events over the past four years and watching her evolve into an amazing artist. It's why I do what I do.
"My studio has always been a place to learn, explore and really just have fun!" Stevens says. "Amiah is a great success story to me and makes me so glad I quit the corporate world to do what I love to do."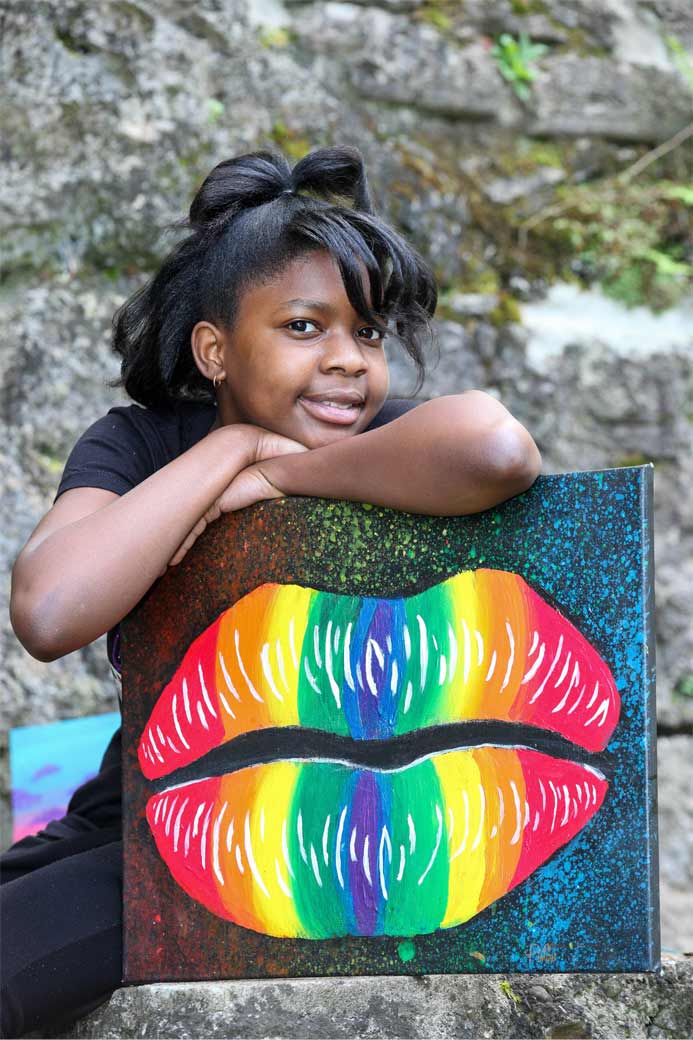 Creating a World Citizen
From January to April of 2018, the Crislers traveled with the Colorado-based Semester at Sea program, and visited 15 countries, including South Africa, Morocco, Japan, China, Portugal and Germany. The experience was eye-opening for the young artist. "The art was different. They express themselves differently. They use different techniques and patterns, and they use different materials," Amiah says.
The trip enabled the family to immerse themselves in the culture in each of the countries. Amiah says it has taken a while to process everything she saw and experienced on the trip, and she hopes to return to some of the countries.
Amiah recently took a short break from painting to focus on other things. Kelly Crisler says she never wants her daughter to feel that her art is something she "has" to do.
Looking ahead, Amiah says that although she is very young, she expects that art will continue to be a part of her life . "I already am, but I want to be an entrepreneur and open my own business called Artsy Things. I already have a website, but I want to have an actual store where I could help kids—or even adults—explore their natural talents. I could have things like coding, robotics, painting. I could host birthday parties there, and I could sell some of my products and paintings there. I think it would be really cool."
No matter where her imagination takes her, Amiah Crisler says she expects that she will always be creative. And she hopes that one day she can help others do the same.
"People might not like drawing, or they may not think they are good at drawing, but that doesn't mean that they have to quit art," Amiah says. "Art can take different forms. Everybody can express their natural talents in different ways."