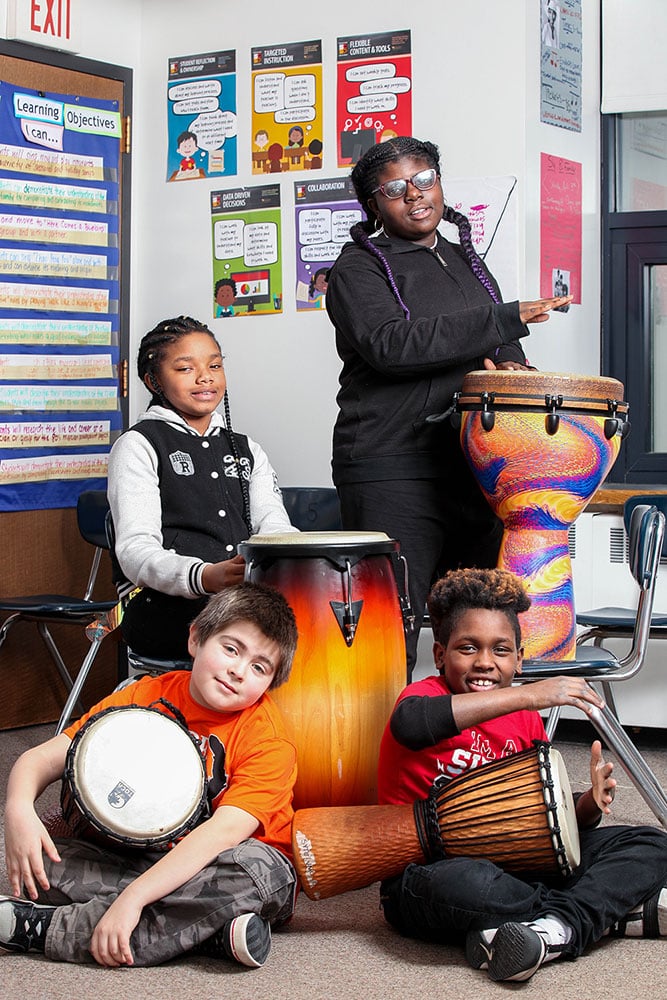 John Heard has been a mainstay on the local music scene for more than 35 years, but his 14 years as a hand drum and percussion instructor with the Syracuse City School District have brought him a different kind of fulfillment than simply performing.
"I was recently in my favorite local Wegmans and the cashier was a young lady who recognized me. She had been in one of my groups, years ago, at Salem Hyde Elementary School," Heard recalled. "She is a student at Henninger (High School) now, and she told me that since she was in my group, she bought her own hand drum, and is still performing at her school. I guess you never know the impression that you are going to have on somebody."
Heard currently leads the percussion program at Roberts Pre-K-8 School in Syracuse. About 14 students in second through sixth grade work on learning about hand drumming during each session. They learn the basics of rhythm and performance, yes. But they also practice hand-eye coordination, body control and teamwork.
Heard works with the schools through the district's 21st Century Community Learning centers. Through state and local grants, organizations collaborate with the district to offer students before- and after-school programming to extend learning in science, technology, performing arts, leadership and mentoring, among other areas. Some of the community partners include the YMCA of Greater Syracuse, the Redhouse Arts Center, the Boys & Girls Clubs of Syracuse, the Westcott Community Center, and Syracuse University.
Percussion programs take place at Roberts, Delaware Primary, Ed Smith Pre-K-8, Lincoln Middle, and Syracuse Latin schools, according to Karin Davenport, communication specialist for the Syracuse district. LeMoyne Elementary School is expected to resume its percussion program in the near future, and there are plans to start an ensemble at Dr. King Elementary by next fall.   
Heard believes connecting students with cultural enrichment and avenues for creative expression is crucial.
"The arts are suffering in the school systems, period," he says. "They are the first to go, then people complain when they're gone."
The percussion program is a chance for participants to make cultural connections. More than 50 percent of Roberts School's 725-plus student population is black. Heard says it is important for those students to understand the importance of the hand drum, or djembe, in African culture.
"It is the oldest instrument on earth, really," Heard explains. "There are links to basically every form of music. It's nice to know that your culture started it."
Heard himself has played in everything from informal drum circles at Thornden Park to blues jams at the Dinosaur Bar-B-Que. The Roberts percussion program includes eight to 10 weeks of lessons each quarter. There are section leaders, and the group must be able to see those leaders as respected peers—regardless of their age.
In addition to teaching students to play a variety of rhythms and styles, Heard encourages his students to experiment with improvisation, expressing their feelings in a rhythm. This exercise helps teach students that creativity can be a means of channeling emotions.
"There is a lot going on with many of these students," he says. "And there is a lot going on in the building. But you can see the progress in these students from week to week."
Vying for a leadership position in the group offers opportunities to work toward goals and build confidence. "They can show that they earned the respect of the others in the group," Heard says.
Heard likes to get the parents involved as much as possible. He offers workshops where parents can learn a little about the program and play some music with the kids.
Heard plans to step away from his work in the city schools next year, but he is confident that the percussion program will continue to thrive.
"The teachers and administrators love it," he says. "It helps kids channel some of their energy, but it also helps them develop skills that they can use in their other classes. They develop a sense of pride."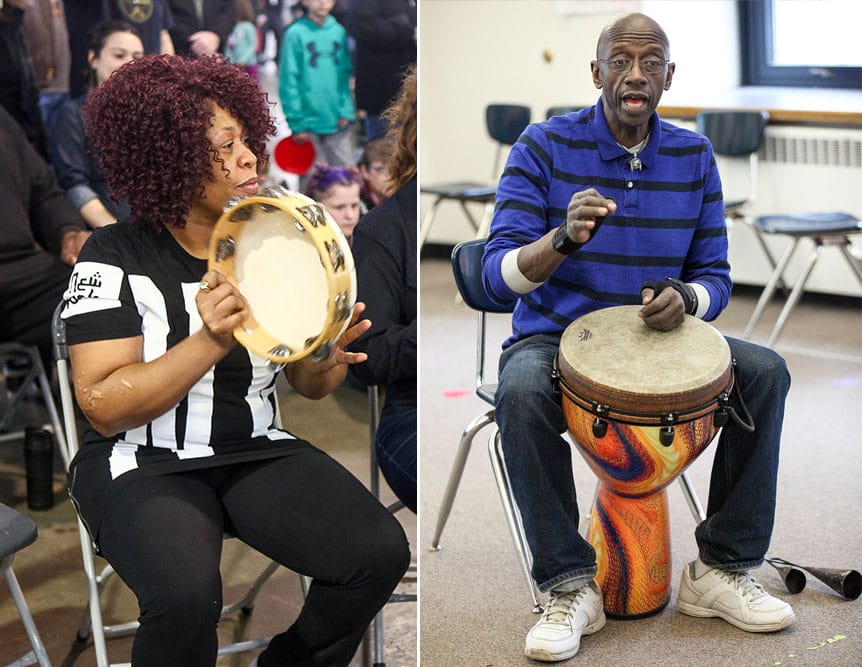 Alicia Wallace, a fourth-grade special education teacher at Dr. King Elementary School and a percussionist herself, knows what that pride means to young students. Last spring, she was an instructor with the LeMoyne Elementary School Drum Ensemble, which performed at the Family Times Kids Expo at the New York State Fairgrounds. Wallace says the group worked hard to get performance-ready.
"I pushed them hard, but we were a family," she says. "Many of these students had never played music before. They had never performed before. Some would get frustrated and walk out during a practice. But they stuck to it. They really touched my heart."
While the group was primarily an African drum ensemble, Wallace made a point to expose the students to a variety of musical styles.
"We played rock and roll, blues, everything. Not being boxed into one culture is major," she says. "Music is for everybody. I don't care what your culture is, there is rhythm."
Wallace grew up in a musical family, and she has played percussion in her church for as a long as she can remember.
"For me, being Creole, being African American, and growing up in Cicero, I had to find ways to connect with my culture," she says. "Music was a big part of that."
Wallace, who plans to organize a program at Dr. King, says even working small doses of music into the school day can go a long way in making connections. In her classroom, students might hear anything from the latest top 40 hits to the Motown classics of the 1960s and 1970s.
As a longtime educator for the Syracuse City School District, Wallace knows how important initiatives like the 21st Century Community Learning centers are.
Wallace says the goal for these programs isn't so much to inspire careers in music as it is about boosting self-esteem, inspiring creativity, encouraging teamwork, and building relationships with students. "Music and food: That's what gets kids' attention," Wallace says with a laugh.
Syracuse native John Bowens has been directing the drum line program at Ed Smith Pre-K-8 School for the past two years. There is a group for second and third graders, and another for fourth through sixth graders—each comprised of 15 to 20 students. Last year, students from Ed Smith were invited to perform at the New York State Fair and the Landmark Theatre.
The drum line ensemble introduces the students to the basics of marching band percussion. "The school is very committed to the program, and the kids are so talented," Bowens says. "The thing about drum line is that it's more active. It's kind of a mix of music and play."
The groups practice four days a week—outdoors when possible. The kids get a kick out of catching the attention of passersby. The students love having the support of their school and their community.
"We're becoming something of an attraction," Bowens says. "We were invited to the Westcott Cultural Fair last year. We're scheduled to play at the Landmark Theatre on March 21. Once the kids do performances, they are ready to do more."
Bowens, a 2007 graduate of Corcoran High School and a percussionist who has played in several local bands, says he appreciates the opportunity to give something back to the Syracuse City School District community. Some of the students are already thinking about participating in marching band in high school. For him, it's an opportunity to share his deep love of music with the next generation.
"It feels so good," Bowens says. "The kids always put a smile on my face. They absorb so much and it becomes something they love. They are so into it and it is a good discipline for them."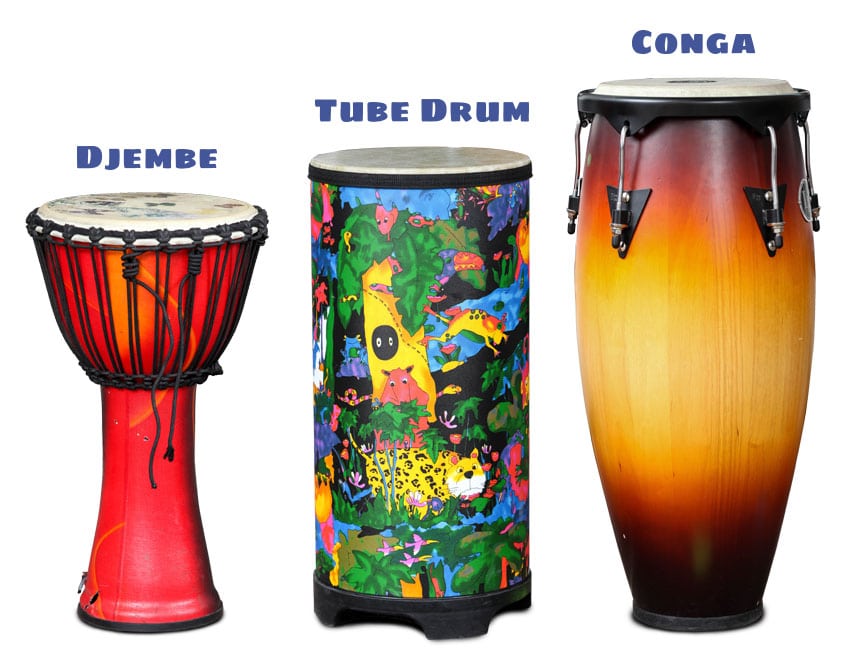 Like Wallace, Bowens likes to mix things up musically. "It's like we are all on a journey together," he says. "We do a lot of Spanish and island music. I show the students videos so that they can see what I'm talking about, and then they are ready to give it a try. I tell them that being in drum line isn't just a hobby, it's a job."
The Redhouse Arts Center is one of the newest of the Syracuse district's community partners. Maxwell Smith started working with the percussion enrichment program at Delaware Primary School last fall. About 40 second graders—separated into two groups—currently participate. "We have a great school climate; the students eat dinner and spend an hour working on academics and an hour on enrichment activities."
Smith says that the group is not limited by musical boundaries. "The percussion sections at Delaware are being introduced to all styles, including bucket drumming"—as practiced in places like New Orleans—"tambourines, boom whackers, and African djembes. There is an all-school performance at the end of the program, where each section gets to present what they have learned. Parents and the greater community are also invited to those performances."
This is Smith's fourth year as an enrichment instructor and teaching artist at Redhouse. He has previously worked with programs at Dr. King Elementary, Frazer Pre-K-8, and Danforth Middle School.
"Students are not often given the opportunity to express themselves and learn in a nontraditional classroom setting, especially in urban districts where budget constraints are a reality," he says. "These types of programs not only allow me to contribute to the betterment of the community, but also allow children to be relieved from the stresses of the traditional classroom.
"When I was in elementary school, we had recess to be able to shake out our jitters and release energy. These kids don't always have that," he says. "When I was a child, I didn't find my calling until I was exposed to the arts. If I can do that for just one student, I will feel successful."