On a warm morning in mid-June, as the final hours of the school year were winding down at Cazenovia High School, engineering and technology instructor Chris Hurd was putting the finishing touches on his 27th year with the district. But it wasn't the upcoming summer break that had him energized—it was the classes that he still had to teach that day.
"Things have changed so much in these fields since I started teaching," Hurd says of his long career. "I've gone from doing tech projects with seventh and eighth graders, to doing physics with high schoolers. You can teach a kid anything if they want to learn it. Once they apply it, they get it."
Using hands-on problem solving to teach science, technology, engineering and math—commonly known as STEM—has become a focus for educators at all grade levels. Methods of teaching the separate, related subjects encourage learning through trial and error, with teachers guiding students' efforts.
Hurd was one of the first teachers in the area to participate in Project Lead the Way when Cazenovia began offering STEM courses in 1999. PLTW is a nonprofit educational organization that emphasizes student exposure to problem-solving strategies and critical thinking through computer science, engineering and biomedical science curriculums. Today, Hurd is a PLTW Engineering Master Teacher—one of just 350 nationwide—helping to develop the curriculums and teaching other teachers. He was one of five educators recognized nationally this year with PLTW's Teacher of the Year Award.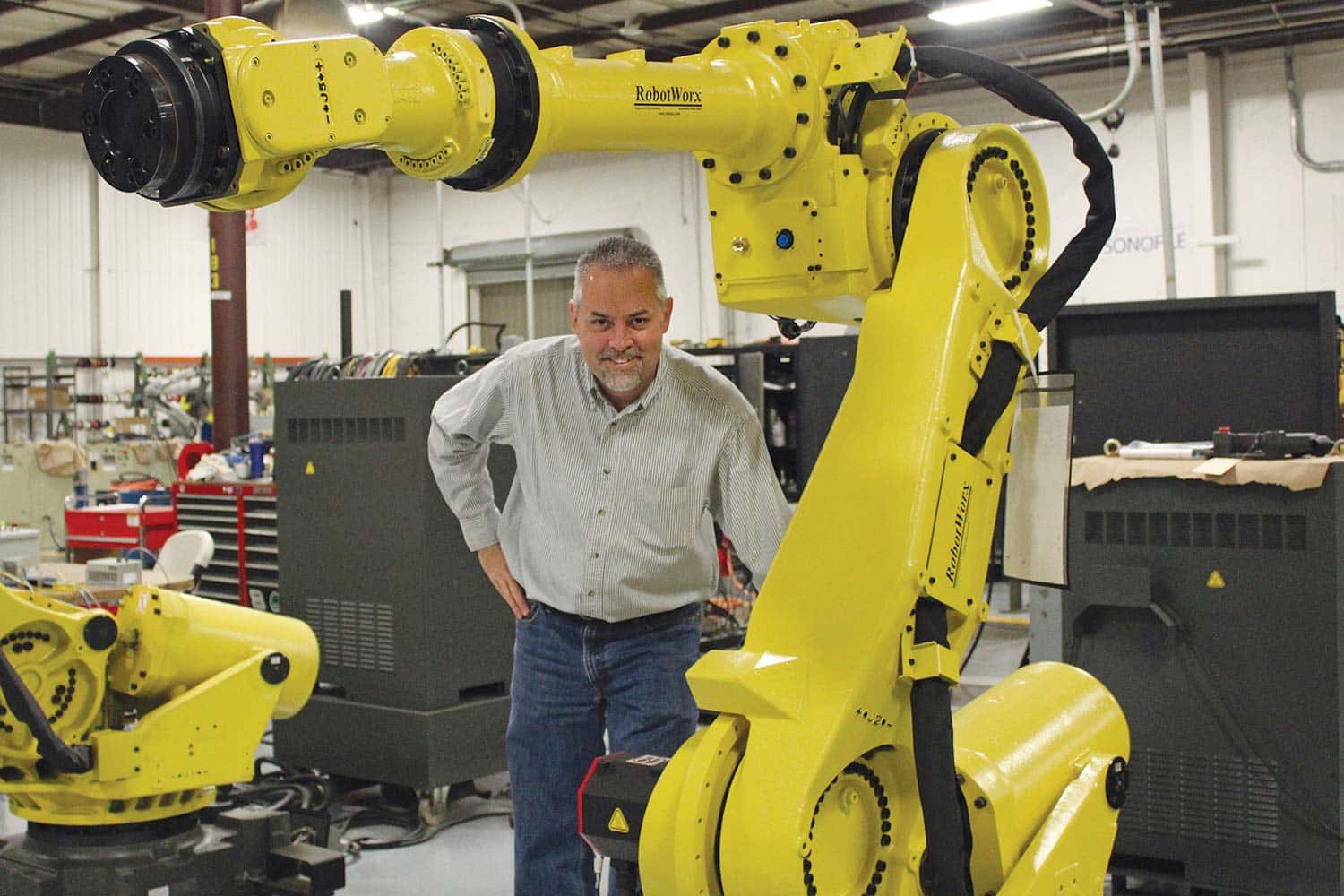 Hurd, a father of two, says programs like PLTW can have widespread influence on the modern classroom.
"My field, technology, has always been student-driven," he says. "But PLTW has been doing that in an expanded way since before STEM was cool. I love it because I don't ever teach the same thing twice. These fields are evolving so quickly, and the curriculum is never the same. There are updates and changes throughout the year."
While the integration of science, technology, engineering and math education may not be as far along as some experts would like, Hurd says opportunities for interdepartmental collaboration are growing.
"The math and science departments here at Cazenovia are outstanding," he says. "These kids come into my class already knowing things like statistics. So I can be confident in incorporating those concepts into a project. And the problem-solving we do benefits students in other classes."
With these skills, students can, potentially, be marketable in the workforce with fewer years of college education.
Kristen Angelo was a civil engineer before becoming a science and engineering teacher at LaFayette Central High School four years ago. Angelo was inspired to teach after participating in student outreach programs through the Society of Women Engineers. Angelo now teaches four STEM courses at LaFayette, and engages her students on a higher level.
"I push them to discover things on their own," she says. "Sometimes that means stepping back and letting them make mistakes that they can learn from. Project Lead the Way has helped the higher-level classes become more project-based. Students need to address a problem by breaking it down and figuring it out. It's not about just giving the right answer."
Angelo knows how valuable this is. "We are, as a society, looking ahead and seeing that we need people who are ready to fill certain roles in industry, engineering or design," she says. "Experts predict that by 2025, there will be three computer science jobs for every person with a degree."
Angelo says, for her, the integration of two or more STEM content areas happens naturally. "I try to do a lot of applied projects, so my PLTW students really use their physics concepts," she says. "And I try to do those open-ended projects with my physics students, too, which draws from other components of STEM."
Angelo—one of five recipients of the Technology Alliance of Central New York's Outstanding Teacher Award last spring—says LaFayette will be expanding its STEM commitment. "(They) just hired a new technology teacher. And in two years I will be teaching a course in civil engineering."
In Syracuse, career and technical education courses are available at all five city high schools. Students can choose the high school with offerings that best fit their academic interests, including programs in fields such as geographic information systems (GIS), cybersecurity and drone technology.
Syracuse students can also work toward an associate in applied science degree in electrical engineering technology or mechanical engineering technology from Onondaga Community College through a six-year program that combines high school and college coursework with career preparation and work experience.

Angelo says LaFayette is also encouraging more project-based learning in the middle and elementary schools. "I think you've got to start exposing students to these concepts at the earliest level," she says.
Tracy Derrenbacher, who teaches Regents earth science and physical science at Onondaga Hill Middle School in the Westhill School District, agrees. "Project-based learning has truly transformed my teaching," she says. "Along with the flipped classroom format I have developed over the past six years, I find project-based, and problem-based learning allows students to work in both teams and individually."
This flipped classroom approach, in which the order of instruction and problem-solving activities is reversed from the traditional classroom model, has measurable benefits, Derrenbacher says.
"Students can learn at their own pace, review materials as needed (while) class time is devoted to the more difficult concepts. Students are more responsible for their time management. (It) is preparing students for real life. It is authentic learning. Employers will expect this," she says.
Manlius Pebble Hill, a private kindergarten-through-grade-12 school in DeWitt, is planning an enclosed STEAM (science, technology, engineering, art and mathematics) park as part of a multimillion-dollar renovation project. Kendall Hoekstra, head of the lower and middle levels at the school, says it will include interactive tools for long-term projects, and a performance and presentation space. This project points to the school's long-held emphasis on project-based learning. 
"When (students) engage in real life, hands-on problem solving, they can see how it relates to what is going on in the world around them and it helps them to feel connected to it," Hoekstra says.
The Liverpool Central School District has also sought to incorporate STEM and project-based learning into classrooms at all levels.
Debbie Jeneault, another of the five TACNY Outstanding Teacher Award winners, teaches fourth grade at Donlin Drive Elementary School. Teachers, she says, use a variety of strategies for getting STEM-based strategies for problem solving into their classrooms. For example, tools such as Science Notebooking are an interactive way to get students to research a focus question.
 "Teachers are finding that with this protocol, it really reaches all subjects. This is learning that can go everywhere—'aha' moments that they can apply to different subjects," Jeneault says.
Half-days for students are designated as STEM days. "We do it cross-grade level," she says. "Kids get to pick from a list of projects, work in teams, and help each other solve design problems. … There can be anything from Rube Goldbergs to marble mazes, to airplane challenges to catapults."
Introducing STEM to younger students is also a goal for the SCSD, according to Nate Franz, executive director of curriculum and instruction. "We really doubled down on that. Project Lead the Way curriculums (called Gateway to Technology at the middle school level) for sixth, seventh, and eighth graders are now done in all of our middle schools."
The Syracuse district has an ongoing STEM-based partnership with the Museum of Science and Technology in Syracuse. And, last spring, students from Syracuse's Danforth Middle School competed in a regional Marine Advanced Technology Education competition. The task was to design, build and operate unmanned vehicles capable of performing tasks in a cold, underwater environment. Each of the three Syracuse teams won awards and is eligible to compete nationally this November. Students from several of the district's middle and high schools have participated in the State Vex Robotics Competition, held on the Onondaga Community College campus. Last spring, a team from Corcoran High School qualified for international competition.
Representatives from local companies also serve on a district task force that gives industry-based feedback on the district's technology programs. "They helped us think about what the needs are in the region and how we can align our programs with those," Franz says. "We can ask questions like, 'What does a comprehensive computer science program look like?'"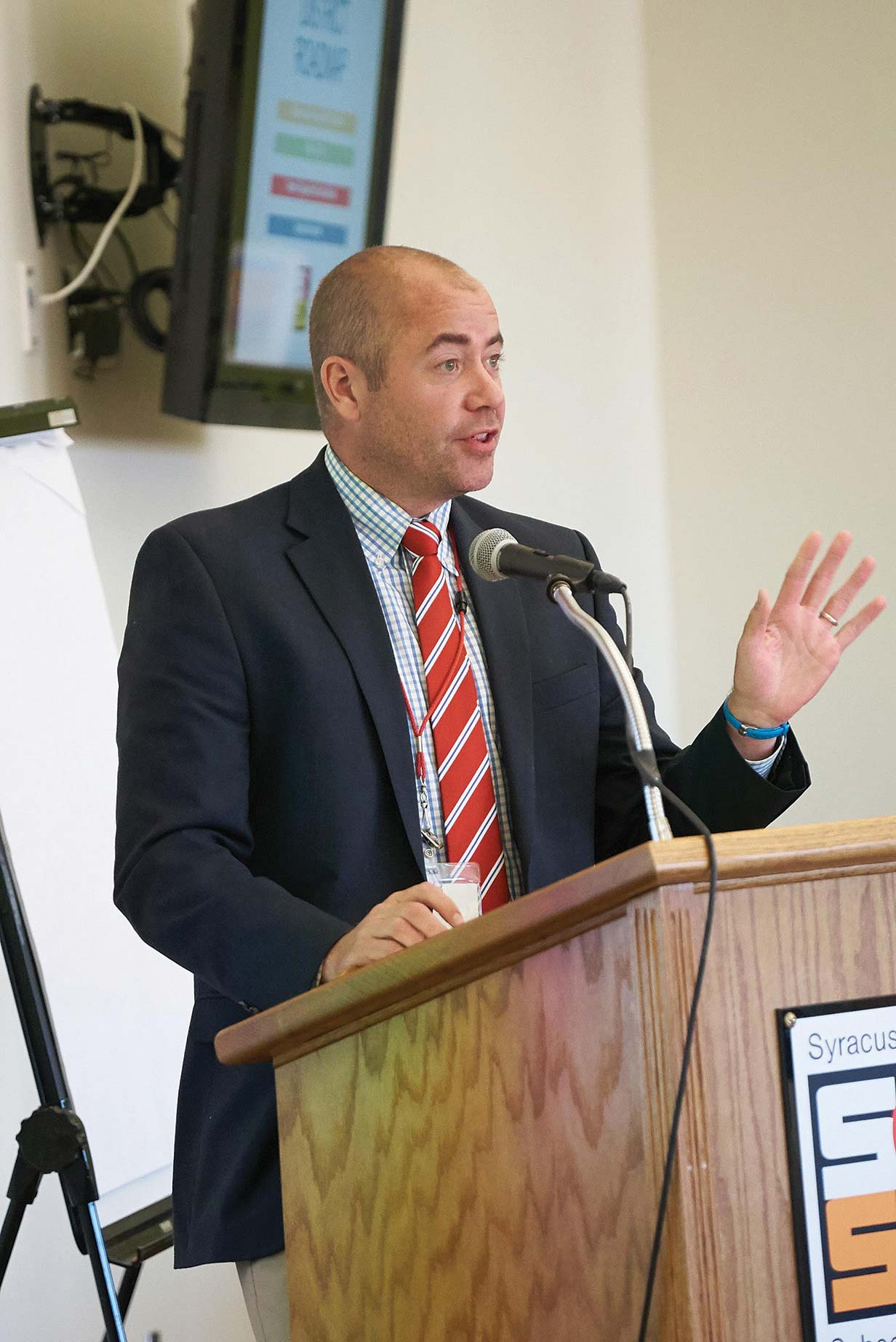 Beyond the Walls
Several local schools and libraries now offer summer programs. One of the most popular is the STEM Camp offered as part of Onondaga Community College's College for Kids. Scott Stagnitta, an engineering and technology teacher at Skaneateles High School who has offered the courses for 16 years, still gets a kick out of seeing kids figure out how to make things work—or why they don't.
"With these camps, kids get the opportunity to take some of these STEM concepts a step further," he says. "There is a lot of open-ended problem solving."
In addition to the STEM camp, Stagnitta offers courses in aerospace engineering, Lego Mindstorms NXT and mechanical engineering. When kids start building the rockets, mousetrap cars or robots, they tend to focus on the end result. Stagnitta encourages them to consider each step in the design process.
"We call it failing forward," he says. "They are more concerned with getting the rockets to work. But I want them to learn when it doesn't work. When they fail, that's when they learn. It's about capturing their imagination."
Stagnitta offers two sections of the STEM camp—one for boys, another for girls. "The girls work better if they are on their own," he says. "Once they do it, their confidence just grows. Then they can take that confidence back to school with them in the fall and be more confident when they work with the boys in their class."
Teaching the Teachers
While Project Lead the Way offers intensive training for educators, teachers also get support and ongoing STEM-based development from various local sources. Derrenbacher, of Onondaga Hill Middle School, says social media and online learning communities offer easy ways for educators to stay connected and discuss emergent teaching strategies and classroom technology. She says professional development in these areas has improved greatly in recent years, inspiring teachers' confidence in meeting the fast-changing demands of these disciplines.
"I look for professional development opportunities that are technology-rich and will take my class to the next level," she says. "I'm certainly not afraid to try something new. Sometimes this is met with failure, but that is part of the learning."
For Jeneault, at Donlin Drive Elementary, a collaborative approach to teaching and implementing the use of professional learning communities is crucial. "We can't even begin the teaching process unless we collaborate on where we are going," she says.
While collaboration can be harder in a larger district, Franz says he and Corcoran make consistent efforts to facilitate that. "Our curriculums are dynamic and we make sure we are implementing those skills into other content areas," he says. "We are learning right along with our students."
At the State University of New York at Oswego, Mark Springston, associate professor of technology, is a fierce proponent of teaching STEM education as an instructional method, or pedagogy.
"We need to give students context, especially for children in grades K to 6," Springston says. "They need practice in active context, doing meaningful things that integrate the core components of STEM. It's not preparing a generation of engineering professionals; it's more that everyone is going to have to problem solve. Whether it's designing and constructing a tree house, or creating things in makerspaces, students are going to need these skills in life, in daily practice, regardless of their career choice."
 Springston, who has been at SUNY Oswego for 10 years, says his experience as a parent has also influenced his approach to working with the next generation of educators. His daughter, Liliana—now 10—wasn't getting sufficient opportunities to develop STEM skills in elementary school.
"I saw that she was not getting meaningful experiences with STEM problem solving," he says. "People coming into teaching now grew up with the internet and they take a lot of technology courses, but they have to learn how to apply that and engage students." 
Springston says educators-in-training would do well to focus on helping students gain something far more valuable than technology skills. "The information age is pushing all kinds of things," he says, "But the process of human problem solving is more consistent."