On one recent late-summer Saturday, the heat and humidity from outside the Syracuse City Ballet studio had seeped into the entrance and corridors already crammed with mothers, kids and strollers. The air was thick with nervous but hopeful energy.
It was audition day. More than 150 boys and girls showed up, eager to land a part in the eighth annual local production of The Nutcracker. That number was up from last year's 90 dancers and the company's biggest turnout to date. Total cast in this year's production: 125.
"It's a big cast, and they're not easy decisions," said Kathleen Rathbun, artistic director and company founder. She and the other casting coordinators stayed hours after auditions were over, combing through their notes to ensure they cast the best individual for each role.
Even after intense discussions, they sometimes have second thoughts. "We're so tired, we're not sure if it's right, so we have to go back, look at it again and tweak it. Then we'll say, 'This one's gonna be sad.' It's kind of like the real world; everybody doesn't get a trophy," Rathbun said.
"It's hard, and I think sometimes parents don't understand we're struggling with it, too," she added. "I'd love everyone to go en pointe. I'd love everyone to have a lead, (but) the integrity of the production has to stay professional."
At the center of The Nutcracker is Clara, a young girl who dreams her way through the fairy tale ballet. The dancer cast in the role must have stage presence and be able to learn quickly, retain corrections and embody the character. Two girls were chosen as Clara this year: Ava Ascenzo, 11, of Liverpool and Sophie Green, 13, of Baldwinsville.
When she first heard the news, Ava said she was shocked. "I was like, '(Did they get) the right person?' I didn't think I would be good enough to get it. My mom started screaming, she was so excited."
Ava has performed in The Nutcracker since she was 7, when she danced as one of the 16 mice. This year, as one of the leads, the sixth-grader from St. Rose of Lima School said she expects to get help and tips from the older kids and past Claras.
Ava also appreciates that she'll be sharing the part. "I think me and the other Clara can, like, work together and learn off each other's mistakes or compliments. There's a lot we can help each other with."
For Sophie, the news put her on Cloud 9. "It's my favorite ballet ever," she said, "and this is the first year I'll actually have time for it, so I'm really excited." She anticipates a hectic but rewarding schedule: "I feel like the whole experience is going to further my dance education and help me grow as an artist."
Alongside Clara's character is her brother, Fritz, who will be played by Andres Vallardes. Vallardes recently moved to Central New York from California and is a student at Jamesville-DeWitt Middle School. In the Syracuse City Ballet version of The Nutcracker, Fritz protects his sister and goes through the Land of Sweets with her.
Rehearsals begin two months before the curtains rise, with hours spent in the studio, every weekend, from Friday evening through Sunday afternoon until the first performance Dec. 2. "It's definitely a big commitment for the kids and adults alike," said ballet mistress and company manager Rachael Cierniakoski. "We know we have a limited time to fit everything in, so we require a lot of focus and dedication from everyone, including ourselves."
West Genesee High School senior and corps de ballet member Hannah Walsh will perform in the show for the last time this year. She admits she made some tough sacrifices over the five years she's been involved. "There'd be Friday-night football games that I'd want to go to, but couldn't because of rehearsal and stuff like that," she said. The chance to perform on stage is her reward.
What has made a substantial difference to practices this year is Ballet and Dance of Upstate NY's new studio. Also founded by Rathbun, Ballet and Dance is the official school of the Syracuse City Ballet.
In past years, rehearsals took place in the basement of a local church that had low ceilings and poles. It was challenging for the dancers, particularly the corps de ballet, to learn the intricate choreography of certain scenes in the makeshift space.
"When we got on the (Mulroy Civic Center's Crouse-Hinds Concert Theater) stage, the stage was so much bigger than the studio, that we had to basically restage everything and that would take time and money to do," Rathbun said.
The building at 932 Spencer St. in Syracuse is 5,100 square feet, and Rathbun is thrilled that the space will allow the staff to tape out the exact size of the Crouse-Hinds stage in the studio. That same room has a dividing wall to create two smaller studios, high ceilings and no poles.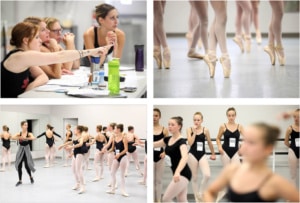 At auditions for the Syracuse City Ballet's production of The Nutcracker (clockwise from top left): the company's artistic staff observe some dancers; dancers go en pointe for "The Waltz of the Snowflakes"; dancers prepare to audition for the corps de ballet; and ballet mistress Rachael Cierniakoski demonstrates for dancers getting ready to audition.
Also new for the company is its very own "growing" tree to serve as one of the few hard props in the ballet. In the first act, when Clara goes to sleep and begins to dream, the Christmas tree sprouts up to a gigantic height. The majority of the second act is a dream, which is foreshadowed in the first act.
When recounting past ballets, Rathbun laughed at some of the mishaps the cast and crew have had to overcome.
"One year during the party scene, which has a lot of young dancers in it, the music just stopped. They did the whole dance without any music," she said. The sound technician fixed the problem, and when the music started again, the dancers just continued without a pause. "It's live theater so you never know!"
Other challenges have occurred with Mother Ginger, who appears during the second act. The character, typically played by a man dressed like an old lady, is built to be larger-than-life with casters, a stage crew to roll her out and 12 little gingerbread cookie dancers all hidden underneath her dress. One difficulty they had was getting it onstage without the audience glimpsing the inner — or under — workings.
"Sometimes the casters would roll on the dress and the Mother Ginger would get stuck," Rathbun said. "We can't move her! We can't lift her! What are we going to do? Either they would rip (the costume) or leave her there and get her out the best they could."
Since then, the costume has been redesigned a couple of times. "I think we've fixed the problem," she said.
Many problems have been solved by volunteers and parents who each year come to the aid of the staff. Cierniakoski, who joined the Syracuse City Ballet in 2013, raved about the dedication of the local dance community.
"When I came here, it kind of blew my mind how everybody is so willing to pitch in all the time, to go above and beyond. They don't mind giving up their weekends," she said. "The parents don't mind helping with costumes. The kids love when they can help each other in rehearsals. It's just an atmosphere of giving and loving that makes it a lot of fun. It really does get you ready for Christmas and excited for the season."
From acting as chaperones, to helping with the concessions, to coordinating the kids' whereabouts, The Nutcracker takes a village.
Stephanie Alberts, mother of two dancers in the show, has been helping with various aspects of The Nutcracker for three years. "Being able to watch my children have complete and utter, sheer joy doing something they love so much, and the joy that it brings to our family and friends, it's a beautiful experience,"
The Syracuse City Ballet is launching a one-time sensory-friendly performance this year. It is working with a company downstate that's helped transform even Broadway shows for people with autism or sensory issues.
A sensory-friendly show involves knowing when to dim the lights or soften the music, said Rathbun. Most importantly, it will be a judgment-free zone. "No one's going to get mad if you talk or yell or get out of your seat," she said.
The ballet company will also continue to provide its outreach program to Syracuse city schools. Members of the artistic staff visit the students to share the story of The Nutcracker, listen to some of its music, and even teach them a little bit of the choreography. The company then performs two abbreviated shows midweek for schoolchildren from Syracuse and surrounding areas. Evening and matinee performances will be held Saturday, Dec. 2, and Sunday, Dec. 3.
"The arts instill so much into our youth and many times it's the first thing to be cut," Rathbun said. "But it's not a luxury, it's a necessity." Her students, she said, don't have a problem with discipline, dedication, perseverance or creativity.
"They don't all become dancers, obviously, but many become lawyers and doctors and they like the challenge and they're up for it," she says. "It's kind of neat to see that part for me: hard work and dedication and then the payoff."