Join Us at Towpath Day
By John Whitford
On Aug.12, Towpath Day returns to Camillus Erie Canal Park. We are happy that the Hillcourt Museum will sponsor an information table on the Erie Canal Historic Trail Award. We invite all youth groups and families to join us. All youths in attendance will receive a free trail hike patch while supplies last.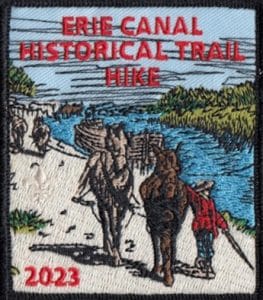 Go back in time for this family-oriented event celebrating the Erie Canal. There will be lots of entertainment, children's activities, narrated boat rides, re-enactors, crafters, vendors, food, and more. Admission is free and there will be free parking in the Department of Transportation parking lot – with free shuttles to the park! 
While you're there, take a boat ride over the Nine Mile Creek Aqueduct. The aqueduct, which is on the National Registry of Historic Sites, was originally built in 1844, and is New York's only restored navigable aqueduct, according to the park's website. By the way, the two miles you cover on the ride count towards your 15 mile total for hiking/biking or boating the canal. You get to mix and match.
There are also trails at the park, including: Old Erie Canal Trail (4.1 miles); South Towpath Trail (3.25 miles); and Clinton's Ditch Trail (0.5 miles). All hikes can count towards the 15 miles needed for the Erie Canal Trail Award.
Just a reminder that the Erie Canal Historic Trail Award is available to be earned by any youth ages 10 to 18. Award requirements are posted under the news heading on the William Hillcourt Museum's website.
On Towpath Day, you can not only get some miles in towards your total, but a visit to the Sims Store Museum counts as a museum visit which is one of the trail requirements.
We hope to see you and your family at Towpath Day… It promises to be a magical time.
This event is funded in part through the generous support of the NYS Canal Corporation and the Erie Canalway National Heritage Corridor.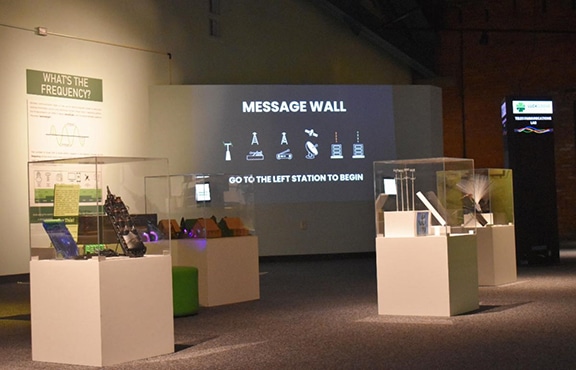 New Exhibit Opens at the MOST
Are you looking for ways to keep your child learning while school isn't in session? The Milton J. Rubenstein Museum of Science & Technology (MOST) has a new exhibit – and another is on the way.
The Luck Grove Telecommunications Lab explores the history of long-distance communication, covering topics such as Morse code, cable splicing, the language of radio, and career pathways.
"This exhibit is a long overdue topic for the MOST, and we are so grateful for Luck Grove's support and belief in the importance of hands-on science for our community," said President Lauren Kochian in a press release.
The Luck Grove Telecommunications Lab isn't the only new addition to the museum's upper mezzanine level. DECONSTRUCTED, a hands-on exhibit that explores semiconductors (and some of their common applications), also opens this month.
For more information, visit most.org/explore.

Syracuse Stage Introduces New Additions to Board of Directors
There are some new faces at Syracuse Stage. It recently announced that five trustees have joined its board of directors. They are: Colleen A. Gaetano, vice president (retired), The Estée Lauder Companies; Rob "Skip" Lentz, executive vice president, Zeta Global; Maria Lesinski, associate, Newman + Lickstein; Andrea Waldman, community volunteer; and Maryam Al-Hindi Wasmund, chief financial officer, Filtertech Inc.
"Syracuse Stage will truly benefit from the variety of backgrounds and experiences our new board leadership and members bring to the table," said Managing Director Jill Anderson in a press release. "Each and every one of them is passionate about the arts, believes in the transformative power of live theatre and is committed to helping Syracuse Stage continue to reach its goal of providing the highest quality of professional live theatre to the Central New York community."
For more information, visit SyracuseStage.org.