BeeKind
Jillian Barrett and her sister have always talked about opening their own gift shop. Last spring, they began selling their candles online, later opening a storefront in Tipperary Hill, the neighborhood they grew up in.
BeeKind's logo features a phrase: Shop Local, Think Sustainable. The store sells items ranging from health and beauty products and jewelry to housewares and treats, many of which are made locally. But Barrett says its candles are the top seller. They come in seasonal scents such as lemon, sweet pea, and honey, are 100% soy, and use natural wicks.
"That itself is going to set us apart just because it's natural burning, it's clean burning, it's better for your health," Barrett said. "And we make the candles ourselves. We make sure everything is perfect."
Location: 118 Milton Ave, Syracuse. You can also purchase products on BeeKind's website.
More information: beekindsyracuse.com.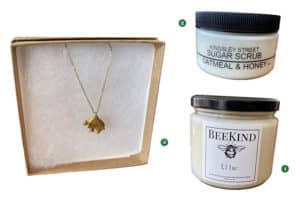 1. BeeKind lilac candle (12 oz), $12
2. Kingsley Street oatmeal & honey sugar scrub, $6
3. Peachtree Lane mama bear necklace, $25
Drooz and Company
When Shelly Kennedy was a child, she often shopped at a pharmacy on East Genesee Street in Skaneateles. Today, that space is home to Kennedy's business, Drooz and Company.
"We call it a modern-day general store," Kennedy said. "I just try to find unusual, practical, affordable items for your home and for gifts. I try to find things that I don't see in the area. I like different. I like unusual…I like when people walk in here and say, 'Look at this! I've never seen this!' That's what I go for."
Drooz and Company is made up of mini departments, and offers a variety of gifts – books, puzzles, decor (Kennedy said Cavallini papers are her most popular product), and sweet treats to name a few. For Mother's Day, Kennedy also added some new mom-related items, and customers have the option to have their gifts packaged with a bow and tag.
Location: 36 E Genesee St., Skaneateles. You can also purchase products on Drooz and Company's website.
More information: droozandcompany.com.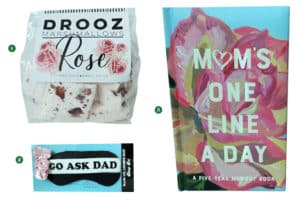 1. Rose marshmallows, $12
2. Sleep set, $14.50
3. Five-year memory book, $16.95
SYR Clothing Co.
Matt and Taylor Sourwine love to travel together. That sparked the idea for SYR Clothing Co.
"We've been all over the country, and we've seen a lot of places that have a streetwear brand just like what we're doing, and a lot of them were very successful and it just did a lot for the city," Matt said. "It's cool to see people wearing a shirt from where they live when they're traveling, or wherever, just to show that pride. We saw a need for it here and went for it…People think it's cool because they've never seen anything like it before."
SYR Clothing Co. sells a variety of hats, hoodies, T-shirts and more on its website, and customers can choose from collections such as City Love, Neighborhoods and Animal Lovers. The couple designs everything themselves – usually "sitting at the dinner table," Matt said – in addition to their full-time jobs (Matt is a creative services manager, Taylor is a teacher). A portion of each order is donated to a different local nonprofit organization every three months— the couple is teaming up with the Vera House until the end of June.
Location: Products are available on SYR Clothing Co.'s website and at SYRACHA'CUSE in Camillus.
More information: syrclothingco.com.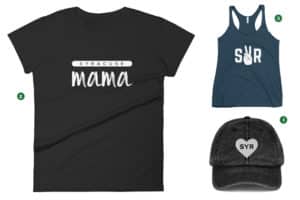 1. 'Heart SYR' Vintage Cotton Twill Cap, $29
2. 'Syracuse Mama' Women's Cut Premium Tee, $29-$31
3. 'SYR Peace' Women's Racerback Tank, $29