Fourteen-year-old Ella Drotar says she was never the kind of girl to seek attention. But music has brought the young acoustic singer/songwriter into the local limelight. Ella's cool on-stage presence and hopeful original songwriting quickly drew attention from local music fans – and has since kept her schedule full.
Music has always been an important part of life for Ella. Her dad, Josh Drotar, has manned the drum kit for various local acts (most recently, The Smoking Loons). Mom, Melanie Drotar, knows her way around the cello, and twin older brothers Ryan and Brendan could frequently be heard practicing guitar, bass or drums around the house (they are now in college and are not playing as much). But Ella didn't think music would become so important for her.
"I started taking piano lessons when I was in second grade," Ella recalls. "I joined [my school] band and started playing flute in fourth grade. I wanted to start taking guitar lessons about three years ago because my brothers played. I wanted to have an instrument that I could play while singing. You can't do that with the flute."
Ella had been in her school choir, but singing on her own required confidence that she wasn't sure she had. "I didn't even know I could sing until my parents heard me one night, like in my room," she says.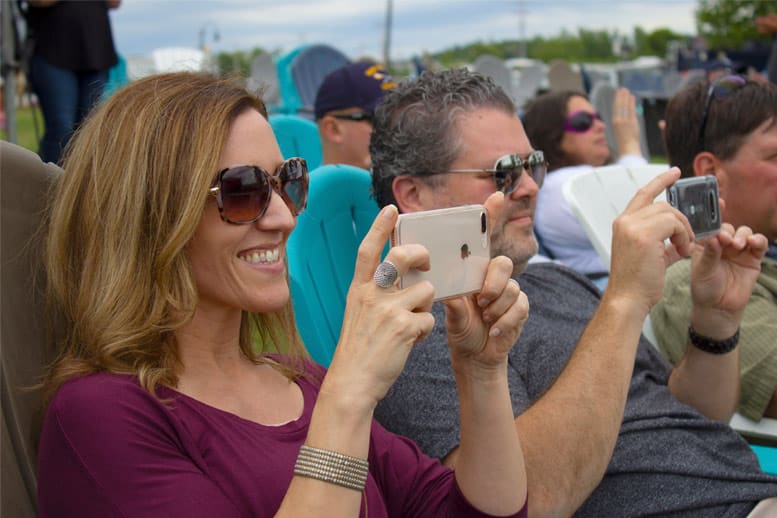 Ella's guitar instructor Dave Brown, who also fronts and manages the local band Grit N Grace, encouraged her to start singing along to what she was learning on guitar.
"I remember being really scared to sing at first, because I am kind of a shy person," Ella says. "That was a big step for me."
Brown recalls hearing Ella sing for the first time. "I told her, 'You've got a nice voice. You just have to project more,'" he says. "She kept going from there. She just took the bull by the horns."
As Ella has continued to perform and become more interested in writing music, Brown has focused on teaching Ella how to make her guitar sound fuller. By fingerpicking, or switching up the chord structure from the verse to the chorus, a single guitarist can develop a more textured sound, he says.
Brown, a classically trained guitarist who has taught at various colleges in the region and privately for more than 25 years, says he is "nothing but proud" of the progress Ella has made. He says she has achieved as much as she has because she works incredibly hard.
"I just give her the tools and it's up to the student to utilize the tools that I give them," he says. "She does. She utilizes everything and comes back for more."

Ella says she began writing songs about two years ago, inspired, in part, by a poetry assignment for her English class. "That class helped me a lot," she recalls. "My teacher gave me the freedom to write what I wanted to write about. That got me into writing songs."
Ella says she draws inspiration for her songwriting from just about anything, but does try to offer a hopeful spin on whatever she writes about. In one case, Josh Drotar says he shared her song "Rise Above" – a song about persevering through hardship – with a friend who had recently experienced a personal loss. The song resonated with him. Feedback like that makes Ella think a lot about the impact her music can have.
"I think there are many different ways people can think what a song means. That's kind of what I try to do," Ella says. "A song can hit somebody in a very emotional way, but also hit someone else in a totally different way – and still help them."
Ella has written about ten songs over the past two years. On stage, she performs those original songs along with covers by diverse artists such as Echosmith (the group's song 'Bright' was the first song Ella ever performed live), Chris Stapleton and Greta Van Fleet.
Ella has flourished in the supportive local music scene. Her first performance was an open mic night at Maxwell's in Hanover Square. There, she caught the attention of Jess Novak, a Syracuse-based artist who, after seven years of performing, knows a thing or two about stage presence. Novak has been a source of support ever since, keeping in touch and even sharing the occasional gig.
After participating in the teen summer Rock Camp at the Redhouse Arts Center in Syracuse in 2018, Ella began to feel more comfortable in front of the mic. She credits Danielle Mitchell, one of the voice instructors for the camp, with helping her become a more confident singer. Ella finished a second Rock Camp session this past August.
While Ella listens to plenty of major-label musicians, she cites local songwriters such as Mike Powell, Joe Altier (Just Joe) and Charley Orlando as some of her biggest influences. Some of her favorite shows have been gigs with other teen girls — Caitlin Barry and Sydney Irving, to name a few.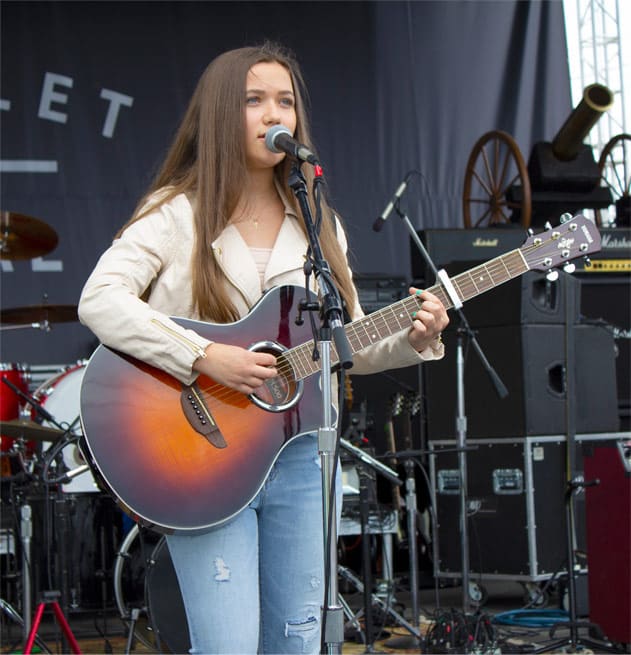 "I feel like local musicians are very supportive and it has been interesting to see how other people do things," Ella says. "I always learn a lot from them."
Josh Drotar does much of the interfacing between Ella and the venues. Both he and Melanie carefully monitor the social media aspects of being a modern performing artist (you can visit Ella on Facebook).
Asked if he had any reservations about Ella playing in locations where she may be exposed to feedback and/or behavior typically associated with older acts, Josh Drotar says that he and Melanie are always in the crowd when she is performing. And so far, all the musicians she has worked with have been gracious.
"When we start thinking of all the local people who have really been just amazing with her, treating her like a colleague instead of a little kid who is out playing music… there's just so many," Melanie Drotar says. 
That's not to say they aren't mindful about how things might change down the road. "There's always that worry, you know, when your daughter gets older and she is out playing in the bars…when she becomes an older teen," Josh Drotar says.
He sometimes accompanies Ella at gigs on the cajón – a box-like percussion instrument played with the hands – and jokes that Ella is now playing venues that his bands have yet to play. Unlike some teens that may scoff at the idea of their parents being so involved in their creative endeavors, Ella appreciates all the support she gets from her family. And she's pretty surprised by how quickly interest has grown in her music.
"I didn't think I was doing anything that different in my family, because of (my dad's) past," she says. "With my dad knowing lots of local musicians, that helped me get into it."
But for Ella, a freshman at Jamesville-Dewitt High School, academics take priority over gigs. So far, she has been able to juggle her studies, participation in her school's music programs and participation on her school's cross-country and lacrosse teams.

"I like how right now everything is pretty chill," Ella says without a trace of irony. "I feel like I'm never looking for a place to play. They come to me. I can play out when I want to and I can still have time to work on my own songs at home."
While Ella is embracing the attention her music is getting, she doesn't see it as a means to a career – at least not now.
"Math is my favorite subject," she says. "So, I might go into engineering. But I know music will always be a part of my life. It's always going to be important to me. I think I will always want to play out. It's just fun. And every time I do it, I meet more and more people and make a connection."
As for her immediate future, Ella says she has been asked by a local friend to start a band – an idea she says "could be cool" – but she plans to continue to perform solo acoustic shows. She has also been approached about recording some of her original songs.
Ella's parents say that as fun as it has been seeing Ella perform at various venues, what they really want is something closer to home.
"I would love it if one day I could play with all three of my children," Josh Drotar says with a laugh. "A family band kind of thing."