There wasn't much hope the kitten would survive. A distraught motorist brought a 2-month-old orange tabby through a rainstorm to Wanderers' Rest animal shelter, just as staffers were about to turn out the lights and lock the door for the night.
"He was just like, 'I don't know what to do, I just found this kitten. I think I hit him when I was on the Thruway,'" recalled Mason Groesbeck, who is on staff at the shelter.
The driver knew about Canastota's Wanderers' Rest. And although the animal shelter is only staffed during the day and has no full-time veterinarians, it turned out to be exactly the right place to drop off the injured kitten.
"The kitten was kind of sluggish and upset," Groesbeck said. "His face was covered in blood. One of his toes kind of looked like it was cut off, like it must have gotten run over or something. He was in pretty rough shape."
Wanderers' Rest Humane Association is a Madison County shelter open to all Central New Yorkers looking to adopt a dog or cat. Groesbeck applied for a job there about four years ago and has been there ever since. He works as a foster coordinator there, which means he contacts volunteers who are willing to provide temporary care to stray animals brought to the shelter.
There are two ways animals are accepted at Wanderers' Rest. Stray dogs are brought in by Madison County animal control officers because of a contract between the county and shelter. It's a different intake process with cats. If a person has a stray, she or he must make an appointment with shelter staff to bring in the cat.
"We work with six or seven vets around Madison County and a couple from Onondaga County," Groesbeck explained. "We have a vet come each week." Those volunteer veterinarians also perform spaying and neutering services.
"Some people call us where they're financially stuck," he said. "Sometimes they can't get the cat spayed or neutered. We have a spay or neuter voucher that, if you qualify, the shelter actually pays for it. We try to help every person that calls."
The next step
Luckily for the orange tabby, a veterinarian was on site the day he was brought in. But Wanderers' Rest is not a medical facility and relies on volunteers like Butch and Cindy Hall to take dogs and cats with special care needs into their homes. After the kitten was examined, Groesbeck called the Halls and they agreed to foster him.
"We took him immediately," Butch Hall said, "Once we take them in as our fosters, we treat them like they're our own."
He explained that although the shelter is a safe, clean place, the environment can be stressful, especially for puppies and kittens, whose immune systems are not yet strong enough to fight off infections. And then there's the noise.
"You've got the dogs barking, you've got strangers reaching into their kennels all the time and it's just a very stressful situation, for both dogs and cats. So taking them out of that stress helps a lot."
Butch and Cindy Hall foster 30 to 40 kittens a year. He credits the shelter's management with greatly expanding the foster system and saving more animals' lives. According to Wanderers' Rest's 2018 Annual Report, the percentage of animals "live-released"—animals who leave the shelter alive through adoption, are returned to their owners or are released to another agency for adoption—has increased by more than 20 percent since 2015.
The Halls have sometimes taken in entire litters of kittens, including seven who were left in a basket in the woods. "Several litters that we've had didn't have a mom, so we had to bottle-feed or syringe-feed, depending on the kitten," Butch said. "We take care of the food, the litter and the vet bills."
They also raise the kittens along with their own two rescue dogs, and that gives the Halls a chance to observe the kittens' temperament. They can then give an adopter an idea of how the felines behave with other animals, whether they're skittish or calm, and other helpful bits of information.
You might think that the folks who work and volunteer at Wanderer's Rest have a hard time resisting adopting the animals themselves, and you'd be right. Groesbeck had one dog and one cat when he started his job there. Now he has four dogs and nine cats.
The story of one of his pets goes back three years to St. Patrick's Day. That's the day a pregnant dog gave birth to a litter of bluenose pit bull mixes at Wanderers' Rest.
"I remember coming in on St. Paddy's Day, and our manager came running up front, and she was just screaming through the hall, 'Puppies! Puppies!'"
Groesbeck was drawn to the runt of the litter. He took him into foster care and bottle-fed him until he was able to eat on his own. He named him Killian—an Irish name in honor of the pup's birth date—and adopted him.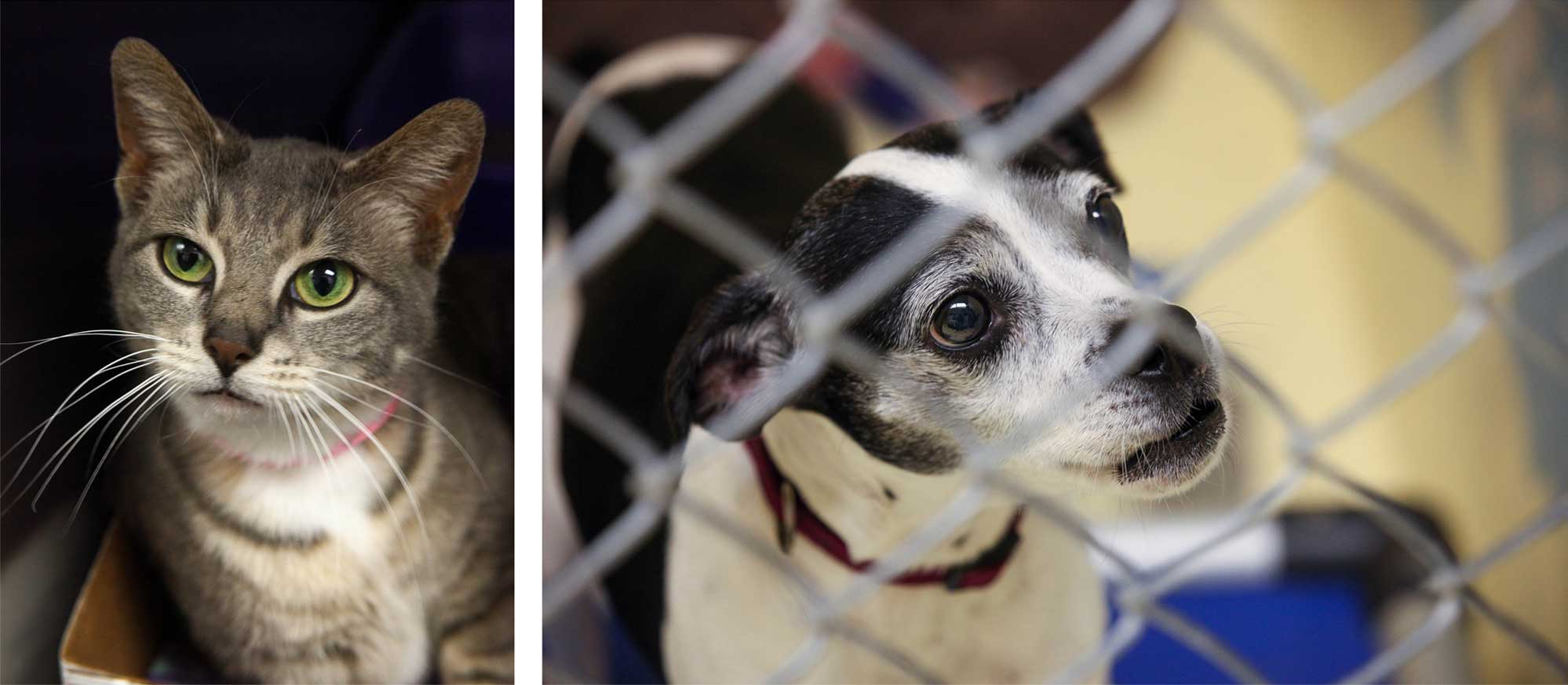 Kimble, the stray kitten
Back to the story of the tabby kitten, whom the staff named Kimble. After two weeks of foster care at the Halls' home, the couple brought the much-healthier kitten back to the shelter.
"I saw that cat and I didn't believe that it was the same cat," Groesbeck said, remembering how banged up the tiny kitten had been on the rainy night he came to Wanderers' Rest. "I literally looked at my fosters and said, 'Did you guys go out and get a different cat?'"
Hall assured him that it was, indeed, the same cat. "Kimble was a real highlight of our fostering because of the transition that he went through in just a couple of weeks," he said.
After Groesbeck posted a photo of Kimble on the Wanderers' Rest Facebook page, the kitten was quickly adopted. He keeps that photo for inspiration. "I look at it every once in a while. Those days that you're feeling kind of low and you're like, 'Am I still doing good?' and you look at that photo and you're like, 'Yep.'"

Fosters Needed
Mason Groesbeck said Wanderer's Rest is always in need of volunteers to foster the animals brought to the shelter, especially between April and September, which are the months when the greatest number of kittens are born. If you are interested in helping foster animals or adopting a dog or cat, contact them at (315) 697-2796 or email: [email protected].