Every child's first birthday is memorable, no matter how you spend it. Be it a big party or a small gathering, there is no right or wrong way to celebrate.
But every type of party needs some level of planning. As you figure out the details, such as how many people to invite, consider as well that this is an occasion that will be special for the adults present but not so much for the 1-year-old. So how do you make it fun for the birthday boy or girl but also for the adult guests?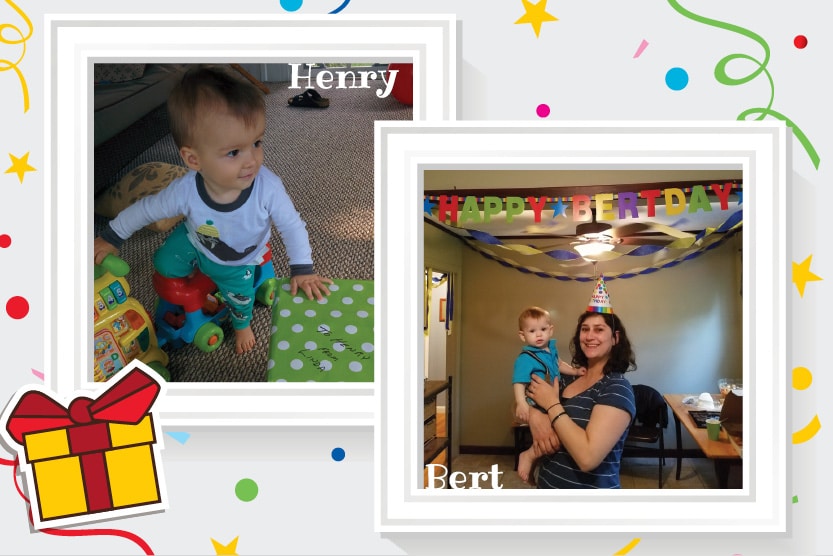 I interviewed some parents to get their views. Most said their top priority was to celebrate with close friends and family. From there, however, the "to-do" list varied, from cakes and themes (or no themes), to photos and combating feelings of stress.
How about a theme?
Elaine and Tony Imbesi are the parents of twins Tino and Georgia (nicknamed Gia), as well as the owners of the Market Diner in Syracuse.
The couple spends most of their hours running the restaurant, and they get little downtime, particularly during the busy summer months. Exhausted from both sleepless nights and fast-paced days, they still pulled off a party for their twins one weekend evening in July 2015.
The theme, Elaine Imbesi says, was simple: blue and pink. She had a dozen pink balloons tied to Gia's high chair and another dozen blue balloons for Tino's. Each wore a birthday hat and enjoyed a "smash" cake in the appropriate color. Smash cakes, as the name implies, are created so the birthday boy or girl gets an individual cake to do with what they will.
The guests, about 20 family members and close friends, enjoyed a mix of catered pasta and salads, as well as some outdoor grilling. All took place on the back patio of the Imbesis' home overlooking the Oneida River.
Overall, the day was a success, but Elaine now says if she had to do it over, she would have researched more local bakers. Instead, she chose one with whom she wasn't too familiar. The consultation went well, and the smash cakes turned out as expected, but the large cake was a disappointment. Her advice? Shop around. In addition, Elaine says she regrets not having gotten professional photos taken in the days leading up to the twins' first birthday. "That's the one thing I wish I did," she says.
The challenge of photos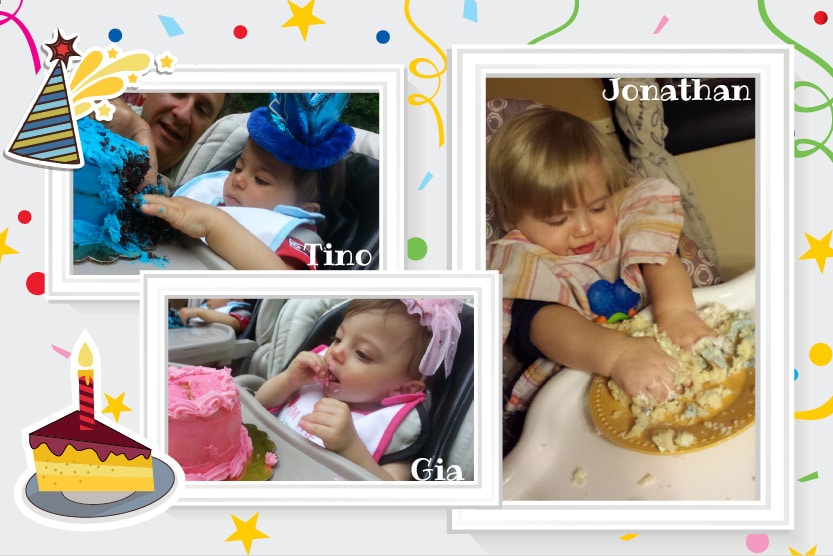 East Syracuse residents Liz and Jared Shepard, parents of Henry, now 2, chose to hold a smaller gathering at home, with just Mom, Dad, birthday boy and grandparents in attendance. There was no particular theme and just a few special gifts.
"It was important to us that our child had a sense of us being there to celebrate him, so that meant not having lots of people and commotion," Jared says.
Henry most enjoyed his cake, a butterfly-decorated cupcake purchased from Wegmans. He ate some of the frosting but paid more attention to the artistry. "I think it became his favorite birthday present of the day."
Looking back, Jared wishes more photos were taken. But he concedes that being in the moment instead of messing with a cellphone or camera can be a bit of a struggle.
"Part of the challenge is that we try to take such perfect Instagram pictures," he admits. "I wish I had more photos that were just good reminders for us, not necessarily perfect portraits."
A meaningful celebration
Former Baldwinsville residents Cristina Jardine and husband Jesse threw a "Bertday" party for their son, Bertram. They invited friends with kids, family and close friends, totaling around 30.
"We wanted it to be a bigger party because we didn't have a baptism for Bert and it was a good opportunity for him to meet some key people in our lives," Cristina says.
Held at home in a casual setting, the menu consisted of pizza and carrot cake, "because carrots were Bert's favorite food at the time." Unfortunately, he wasn't having it with the cake. "Someone else made a lemon cake and he preferred that," says Cristina.
"I really liked the way we did it," she says. "Bert was comfortable because he was familiar with the setting and knew most of the people. It felt intimate and relaxing, even though it was bigger than our usual get-togethers."
Although Bert wasn't interested in the presents, it was fun for the other kids to help him open them. The Jardines took the photos themselves.
"My advice would be to think about your child," Cristina says. "I think a lot of people get so caught up in planning a big, wonderful event that they forget the kind of kid they have. If your kid is shy, there is nothing wrong with having a small party. Parties can be overwhelming so make sure you have a plan so that your kid can take a break, have some quiet time with Mom/Dad, etc."
Savoring the occasion
Liverpool residents Kristine and Mark Davoli adopted their first child, Emilia, now 2, shortly after she was born.
"Our daughter is a miracle and watching her grow and turn 1 year old was amazing," says Kristine. "The time flew by so quickly, but we are so proud to be her parents and we were so happy to share our beautiful girl's birthday with our loved ones."
The gathering of about 15 people—family members and a couple of friends—was held in their home, decorated with a "1-up" theme, which is a reference to Mario Brothers. "Mark is a gamer and our daughter loves to watch him play," she says. "It made the decorations fun for us all."
The couple created a slideshow of photos from Emilia's first year of life and displayed it on TV for their family and friends to enjoy. They ordered pizza, wings and salad, with cake and cupcakes for dessert.
"Having her first cake was very special," Kristine says. "It was so much fun to watch her dig into her cake and cover herself in whipped cream icing! She loved her party, all the colors and gifts, but I do believe her favorite part was the cake, of course,"
Kristine's one regret? That she didn't take some time to slow down and enjoy it more. "I was rushing around taking care of everything and snapping photos. I wish I had taken more time to sit back and soak in the joy of the occasion."
Her advice: Have a designated photographer, whether it's a family member, friend or professional, so you can focus on other things. "Don't miss out on anything. Your little one will only have their first birthday once."
Memories
My husband Tim and I celebrated our son's first birthday two years ago. I knew I wanted to make it indelible but still keep it basic so as not to overwhelm Jonathan—or anyone else, for that matter. I ordered custom invitations (even though they were sent to only a handful of guests, close family and friends), and a smash cake and a traditional round cake with a rubber duck theme from a local baker. We lit a countdown candle given as a gift by his godmother: It is burned until you reach the number 2, then you repeat the custom each year until your child turns 21.
We ate, talked, laughed and took pictures throughout the evening to fill the memory book that I just completed this past Christmas.
Looking back, there may have been some regrets I expressed at the time, but they have since been long forgotten. At age 46, I was just super-grateful to be given the blessing of a baby boy to celebrate.
My advice? Keep it simple or do it up grand. In the end, it's about being together and connecting in love.