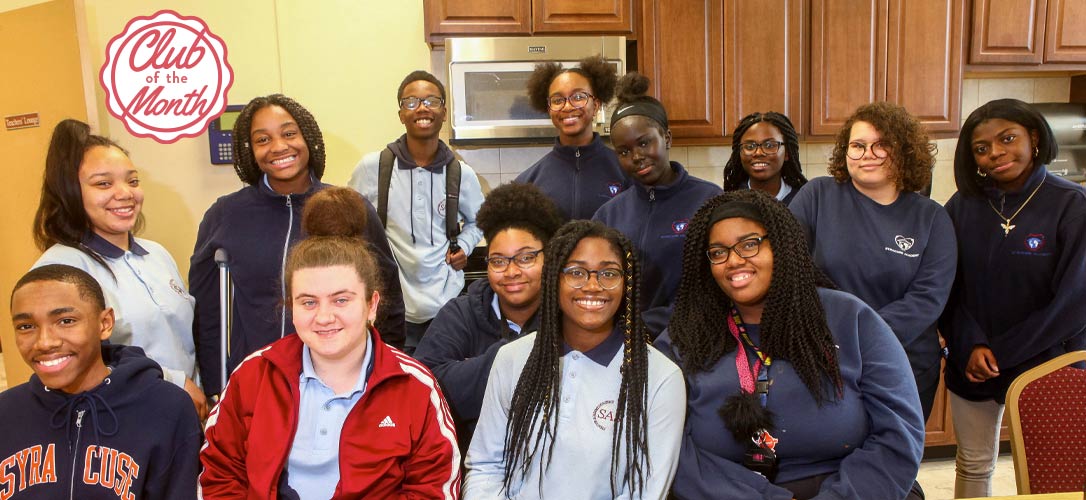 I learned that certain temperatures and textures or consistencies are very important. Because even the smallest thing can affect the food in a big way.
– Naomi Turner, Grade 9
Some students at the Syracuse Academy of Science High School have spent the past several months learning to bake once a week after school.
The SAS Baking Club began last year. A group of students on a field trip to the library looked at some cookbooks and thought they'd like to start a baking club. Eunice Ray, an English teacher at the charter school and an avid recreational baker, volunteered to be the adviser and worked with the students to create a mission for the club and submit it for approval. "Our mission is to expose students to different baking projects and have them learn new things in the kitchen," she said.
And a lot of learning has been going on at the weekly club meetings. "I have never taught anyone to bake before. In fact, I'm usually pretty territorial in my kitchen, so sharing the space has been an experience," Ray wrote in response to emailed questions.
Students, meanwhile, have practiced working together cohesively, measuring ingredients precisely, using kitchen gear appropriately, and bouncing back after a mistake, among other skills.
Club members are in grades 9 to 11. Ray would have liked to include more than the current membership, but a shortage of materials and gear forced her to limit the group. (The club's single stand mixer was lent by Ray's co-adviser, SaQuota Reaves. Other items were donated by fellow teachers, and in February the club was allowed to purchase mixing bowls and a hand mixer.)
Club members have made a bounty of mouthwatering items, including: rice crispy treats, brownies, candy apples, cookies, cheesecake, dessert egg rolls, ice cream, deep-fried Oreos, and Chinese doughnuts with chocolate sauce and whipped cream. (In the photos on these pages, students are shown preparing Chinese doughnuts.)
Asked which were their favorite or most memorable projects, everyone had a different answer. Ray liked "the cookies we baked (chocolate chip, monster and double chocolate chunk) because so many people loved them. We got orders for us to bake more!" Tenth-grader Nyrow Longar recalled the peach cobbler, because "I never bake, and this one taught me a lot about how much focus is needed." ZyAsia Gunn-Williams, another grade 10 student, said the most memorable was "the candy apples because it was my first time making them and it was a fun experience."
During baking things take time but you have to stay patient to see the great things after. When we made caramel for our ice cream, it messed up the first time, and we had to wait for the second batch of caramel. And the second batch was really good.
– Jviona Baker, grade 9