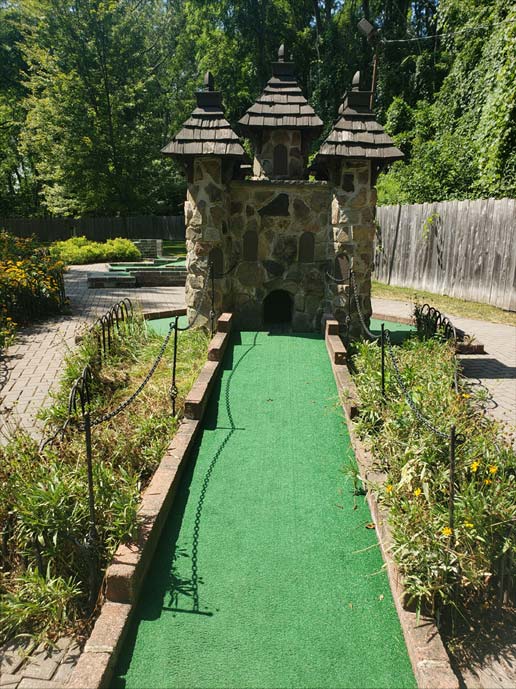 Are you in need of a date night? Are you looking for something to do with your family? Fairmount Glen Miniature Golf is the perfect place for a night (or afternoon) out.
Fairmount Glen first opened in 1947 on land that is now home to West Genesee High School, according to its website. The course later moved to its current location in Fairmount.
A single game costs $9 per person, but you can also purchase two hours of all you can play for $13.50. We chose the first option. If you are planning to take your family, keep in mind that children ages 5 and under are free with the purchase of an adult admission
.
After we collected our scorecard, clubs and golf balls at the club house, which doubles as a concession stand, my husband and I walked the short distance to the first hole. The grounds are landscaped with flowers and trees, and a creek runs down the center, almost making you forget Route 173 is just up the hill. There are also benches scattered around the course.
The holes feature a pinball machine (this one was my favorite), windmill, barn, castle and more, each with varying degrees of difficulty. There is also a 19th hole at the end, where guests can win a free game and a pizza or deduct two or four strokes from their score.
It only took about an hour to play the entire course, but it was a fun way to spend an evening with my husband.
IF YOU GO:

Fairmount Glen Miniature Golf
Location: 210 Onondaga Road, Syracuse.
Hours: Sunday – Thursday from 10 a.m. – 11 p.m. and Friday – Saturday from 10 a.m. – midnight.
More information: (315) 487-0546. fairmountglen.com.