Father's Day is June 20. Find the perfect gift for dad at these local businesses.
Smith Housewares & Restaurant Supply
Smith Housewares & Restaurant Supply has been in John Kuppermann's family for more than 125 years – his great-great-grandfather founded the business in 1894 and Kuppermann is the current owner.
Now located on Erie Boulevard in DeWitt, the store offers something for novice and experienced chefs alike (and everyone in between), including: gadgets, cutlery, cookware, bakeware, barware, pizza and pasta making supplies, small appliances, and Hyman Smith Coffee. Smith Housewares & Restaurant Supply also includes a section called "Smitty's Curiosities," which features vintage dinnerware and glassware.
"Certainly, on the East Coast, there is no one that does household and commercial in the same four walls. You can walk in here and you have a far wider product selection than any other place. We have something like 18,000 SKUs," said Kuppermann. "The other thing [that sets us apart] is that we know what our products are. We can have an intelligent conversation with people about the items that we sell."
Location: 3140 Erie Blvd E., Dewitt.
More information: smithrestaurantsupply.com.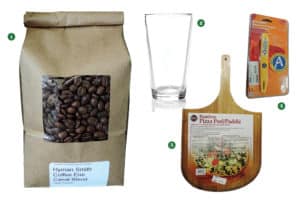 1. Hyman Smith Coffee Erie Canal Blend, $15.95
2. Pint glasses, $19.99 (two dozen)
3. Bamboo pizza peel, $24.99
4. Waterproof digital thermometer, $26.99

Witty Wicks
 Ten years ago, when her youngest son entered kindergarten, Aubry Panek decided to start her own business – that way, she could continue to be there for school activities and to get her children on and off the bus. She taught herself the basics of candle-making, first making them out of her house and going to the CNY Regional Market each weekend, eventually moving to Township 5 in Camillus in 2018.
Though Witty Wicks may be best known for its candles (they use natural ingredients, have various toppings, and come in dad-friendly scents such as Lumber "Jack" and "Sunday with Pops"), the store also sells home goods, clothing, and locally made salsas, hot sauces, and salts – with a corner devoted entirely to products for men.
"We started to notice that men would come in with their wives and stand in the front corner and wait for them to finish shopping, so we really expanded it," said Panek. "The Tooletries line is really popular – silicone bathroom stuff that is marketed like a tool chest. The BrüMates are also popular for dads. We have a lot of beer referencing items, as well as golf, mowing the lawn; typical dad stuff."
Location: 190 Township Blvd Suite 20, Camillus.
More information: wittywicks.com.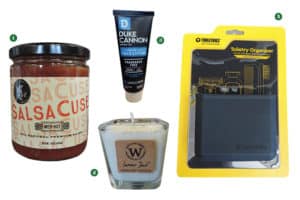 1. Salsacuse salsa, $6
2. Lumber "Jack" candle, $10
3. Duke Cannon face lotion, $15
4. Tooletries toiletry organizer, $20