Looking for a fun alternative to candy to contribute to your child's classroom Valentine's Day celebration? Melted crayon hearts are a simple way to create a personalized message of affection and friendship. They're beautiful, fun to color with — and they use up all the broken crayons lying around the house!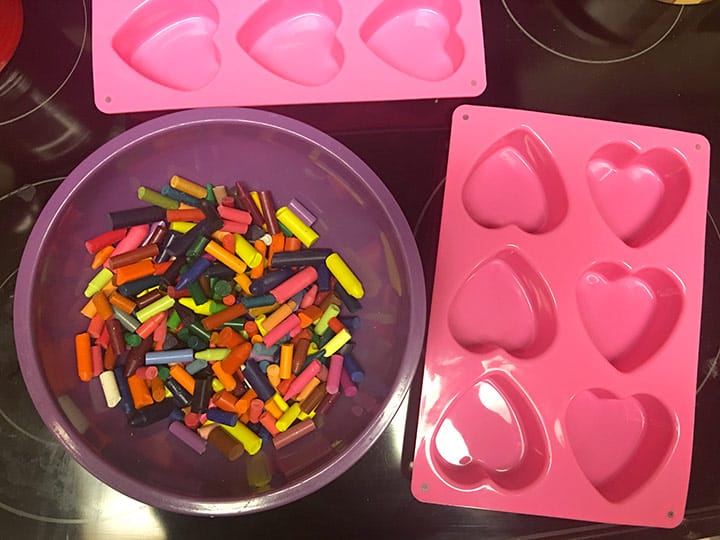 MATERIALS
Silicone Baking Molds in Heart Shapes:

Available at Michaels or on Amazon

Crayons:

I have a huge bucket of crayons collected over the course of three children. Any wax crayon will do. (Some of my crayons had glitter in them, which added a nice effect.)

Baking Sheet
Two Large Bowls, Buckets or Bins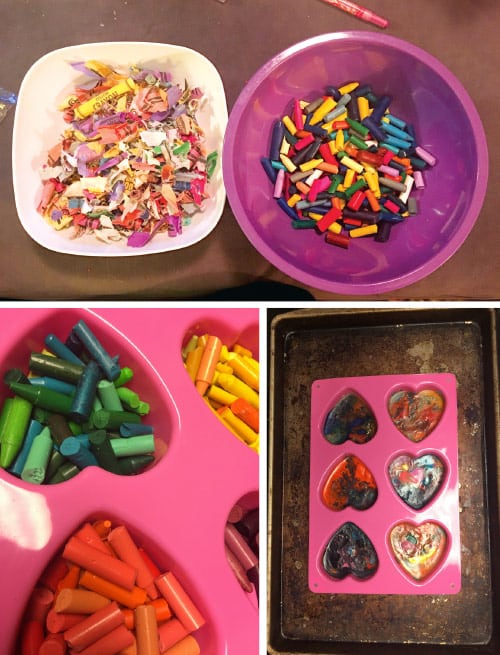 STEPS
Start peeling! I find this process rather therapeutic and don't mind sitting in front of the TV, mindlessly peeling crayon labels. Or you can soak the crayons in warm water to soften the labels. Once you have the label off, break the crayon into three or four pieces.
When you have a good number of crayons, transfer them to the silicone baking molds. You can make multicolored hearts or keep them all in a single color family.
Place your filled heart molds on a baking sheet and put the sheet in a 350-degree oven for 15 minutes. Check them before you pull them out to ensure all the crayon pieces are melted.
Let cool. The crayons should cool for at least an hour to allow the wax to set. (Speed up the cooling by putting the molds in the freezer.)
Once the hearts are cool to the touch, pop them out of the silicone mold.
Your valentines are ready! You can either put them in a valentines-themed gift bag or attach them to a note printed on card stock.