Addressing the Digital Divide
Onondaga County families can check out more than books at their local library. Tech packs are now available at branches throughout the county, and there are plans to add more.
Each tech pack includes a Chromebook and internet hotspot (with chargers), as well as a guide, and patrons are able to check them out for three weeks. Last winter, with a pilot program already in place at a few branches, County Executive Ryan McMahon announced that the county would invest $100,000 to purchase more packs. According to Christian Zabriskie, executive director of the Onondaga County Public Libraries, there were 20 tech packs in circulation prior to McMahon's initiative, and that number rose to 175 when the additional packs were delivered in late summer/early fall of 2019.
"When we're looking at the issue of poverty and we're looking at barriers to help people get out of poverty, certainly technology and the digital divide showed up as a consistent theme," McMahon says. "This was something that we could immediately help do, get in circulation, to address that digital divide."
During his State of the County address in February, he announced that the county plans to invest an additional $150,000 into the program.
Zabriskie says the packs have been "wildly popular" since their addition.
"We have waiting lists for them still, which just means that we're cycling through them really quickly and trying to get them out so as many people as possible can access them," he adds. "I don't want people to have the impression that if they put themselves on the list then it's going to be a long time before they're able to get it, but none of them are sitting on the shelf. These things are coming in and going right back out again very quickly."
Zabriskie – who previously worked at libraries in Yonkers and Queens before joining OCPL in January – has been impressed with the progress of the program.
"It's a really effective way of addressing some issues around the digital divide, particularly regarding family access to the internet and what that can look like," he says. "I think this is a very powerful and visceral response to issues of access and connectivity for families in the county."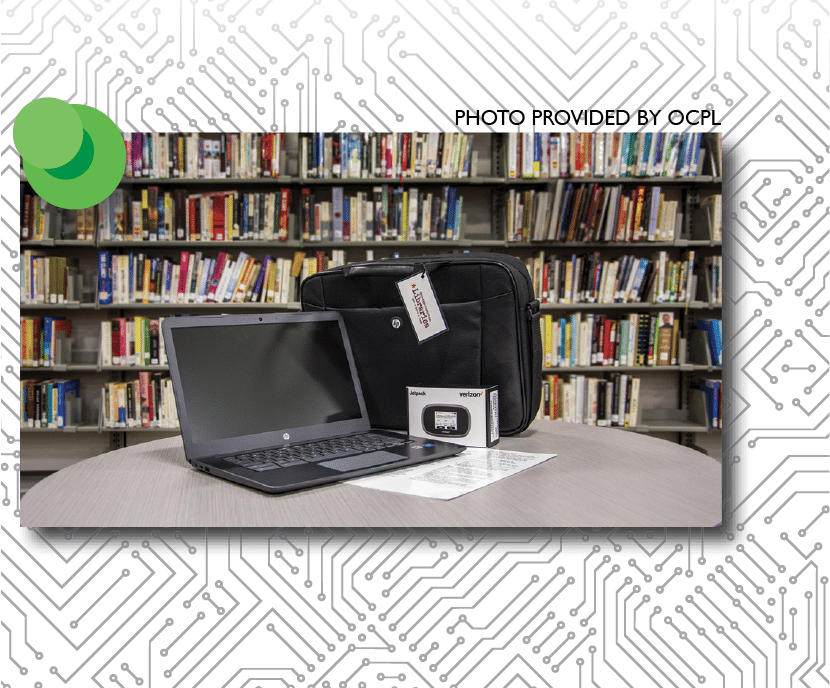 The Courage to Speak up
One afternoon in 2018, Jecenia Bresett's son came into the house crying. He was being bullied on the bus and had retaliated. Bresett went outside to speak to the bus driver.
"She said that my son came up to her and was upset, and the kid that was bullying him came up to her as well and said that my son punched him. She knew from my son's personality that it was out of his character," she says. "The bus driver agreed to move my son's seat. I told her that my son is shy and I will give him something to give her as a sign to communicate that he needs help."
That would eventually lead to the creation of the Courage Coins. The coins – which Bresett says are 1.75" in diameter with a carabiner clip to put on a backpack – feature the phrase 'Can we talk? on them. Each coin comes with a poem that details how children can use them for topics such as depression, anxiety, bullying, abuse, and really anything important that a child needs to talk about.
Vobress Inc., the non-profit organization that was established to produce them, recently dropped off some Courage Coins at an elementary school in Liverpool, and Bresett says they are also working with a pediatrician's office in Liverpool and the Syracuse Parks and Recreation department. The organization launched in September of 2019.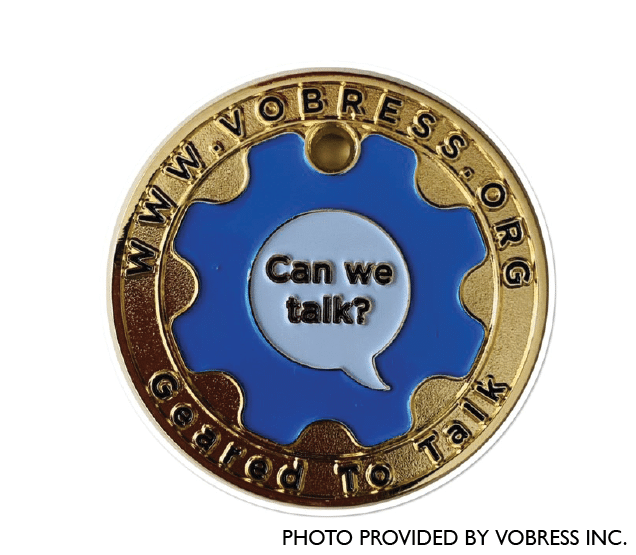 "If you receive a Courage Coin, it's a child's way of saying, 'I need help' without drawing attention to themselves," Bresett says. "At the same time, it gives parents, educators, bus drivers, law enforcement, etc. the opportunity to teach children how to have better lines of communication. Not only do we want someone to ask, 'OK, what's the problem?' but to also help the adult teach a child better coping skills or help find the resources they may need. On the flip side, if a child reports that they are being bullied, finding out the reason why the child feels the need to bully…Helping the bully rehab their behavior is fixing the problem instead of managing it by sending the bully home for suspension. The bully will continue to cause problems again to the same child or even to another and usually the abuse escalates."
Bresett hopes the Courage Coins inspire parents to take a step back, create open lines of communication and ultimately move relationships forward with their child(ren).
"Everybody is in a hurry," she says. "If I would have just stopped and said, 'Why? Why do you need me to pick you up? Why do you not want to get on this bus?' I think he would have told me. The child bullying my son was acting out due to his parents going through a divorce. By the intervention between myself and the bus driver, we learned of what was really going on for both children."
For more information, visit vobress.org.