Tucked away on Lodi Street in Syracuse, one could be forgiven for not making Speach Family Candy Shoppe a frequent shopping destination. But a quick peak into the fourth-generation family business is all it takes to understand why it has lasted for 100 years. Fresh, handmade chocolates tempt visitors in the glass cases, while troughs of penny (style) candy line the back wall. The Speach family has been successful by balancing quality and innovation with just the right amount of nostalgia.
Michael Speach Jr. has been president and head chocolatier since 2007. One hallmark of his tenure has been bringing a modern business savvy to the day-to-day retail operations, while honoring the rich history that his parents, grandparents and great-grandparents built.
"It's a balance," Speach says. "You can be very niche-based, but that can be limiting. Part of the appeal, for me, is figuring out how we can better serve our customers. For example, chocolate covered potato chips were extremely popular in the '90s. They are still a very big product for us. But we have also become very good at looking at where we can introduce a new product or service without sacrificing the quality that people expect."
Speach approaches his role with enthusiasm, but admits that wasn't always the case. When his parents, Michael and Susan Speach, ran the store, Michael Jr. was rarely there.
"In my teens, I did next to nothing," he says with a laugh. "As a child, I saw that holidays were very busy and stressful for my parents. I wasn't attracted to that."
Speach studied at Onondaga Community College and Ithaca College, earning a degree in theatrical design, then worked for several years in New York City. But the stress and politics involved in the theatrical world grew dismaying. During the summer of 2007, Speach came home to visit and to evaluate his future in the entertainment business. It was a turning point.
"My mom was busy getting things ready for the State Fair and she asked me to help out by making some fudge," he says. "Within two or three days, I had made, like, 700 pounds of fudge. More than we could possibly sell."
The rhythm and serenity of the process tugged at some heartstrings.
"I woke up again," Speach says. "I was really drawn to the creativity of the candy making, and the history of the business."
The timing couldn't have been better. Susan Speach was juggling her work running the business with a full-time job. She and her husband were coming to terms with the fact that they could no longer carry on. They sat down with Speach and his two sisters and reviewed their options: sell everything and close shop, or …
"I decided I would handle the day-to-day running of the business," Speach says. "I told them I would give it three years."

A Fresh Vision
Now into his 12th year as president, Speach says that he has learned so much from what his predecessors did right and what they could have done better.
"I've learned to be more well-rounded when it comes to the business side of things," he says. "I've just decided to embrace it, to incorporate it all into the daily tasks." He also uses technology as a means of promoting the business beyond the local market, and for making organization easier.
"We don't really use technology in any part of the candy production," Speach says. "The dipping, chopping and melting are still basically made by hand. But technology has been helpful in tracking trends in our sales, things like that. Our POS (point of sale) system is a big piece of our growth."
Automation has infiltrated many food-based businesses, but Speach says he plans to continue giving his customers what they expect: a high-quality, hand-made product. "Everything is made by hand, and it's actually better for us because we can control the quantity," he adds. "We don't overproduce to the point where we have a warehouse full of stuff."
Another mark of a good leader is knowing when to ask for help. In 2012, Speach's sister, Connie, came on board as an assistant manager. Speach also started hiring outside help – not something his predecessors ever did. During the holidays – Christmas, Valentine's Day, Easter and Mother's Day – the staff can grow to about a dozen.
"This isn't just a business; it's my life. It's blood, sweat and tears. It's the good times and the bad. It's family, friends and lasting relationships."

– Michael Speach Jr.,
president of Speach Family Candy Shoppe
"That has been a big change," Speach says. "During that first year, I was doing most everything, but I think I've gotten a better sense of how to delegate and what to hold on to."
Connie Speach, unlike her brother, logged plenty of hours in the candy shop when her parents were running it. "All through high school, I would help my mom as much as possible," she said. "When I graduated, I helped out more."
Connie juggled her work at the store while building management experience at other retailers. She also took note of her mother's strong work ethic and the determination required to keep a small business successful. Bringing those skills to the family business once Michael became president made perfect sense.
The Speach siblings share an easy camaraderie on the sales floor and have thus far navigated the occasional difference of opinion. "We argue about certain things, but that's what families do," Connie says. "I wouldn't have it any other way."

Once Old Is New Again
Speach keeps a small wooden plaque hanging behind the counter. It holds a preserved receipt from the 1930s when his great-grandfather, Michael Spicciati (the family's original Italian name), ran the business. "There were four products listed, all done very, very well," Speach says. "Now, we offer about 600 different products."
Some of the shop's current products – such as the chocolate covered marshmallows, brickles and truffles – hail back to their origins. The brickles evolved from recipes used by Speach's mother, Susan, and the truffles follow the process created by Susan when she was the head chocolatier.
"My mother was truly the creative part of the business for over 20 years and continues to be what inspires me every day when I walk through these doors," Speach says.
"The brickles are a very unique product and they are very popular," he adds. "We've changed the recipes just a little to incorporate more natural ingredients. We still offer about 300 different kinds of truffles, rotating them in depending on the holidays."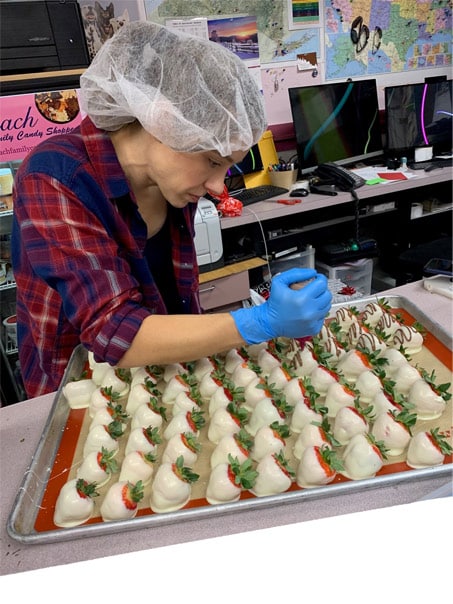 In recent years, the store has established a partnership with 1-800-Flowers, assembling fresh fruit and chocolate arrangements for delivery. Each arrangement is made from fresh fruit selected daily from local distributors.
The shop has been at its current location, 2400 Lodi Street, since 1994. The family has owned the building for decades. The store first opened on North Townsend Street, then operated out of several locations in Syracuse, Liverpool and (very briefly) in Cortland.  Speach says that, although the building is old and costly to maintain, it is set up to suit the needs of the business quite well.
As much as Speach is thriving in his role, he encounters some of the same occupational hazards that caused his parents to walk away. "I have yet to really find a sort of work/family balance," he admits. Even with the expanded staff, Speach says he probably does about 90% of the direct customer service himself. 
As for the future, Speach says he's open to the possibilities. Perhaps a change of location? An expansion? "The store has opened so many doors for me," Speach says. "We will see…anything can happen."
Whatever comes next, Connie says she looks forward to helping continue the family legacy. "Michael has big plans for the store and the 100th anniversary," she says. "We have looked forward to this for a very long time. I know our dad, grandparents and great-grandparents would be extremely proud knowing that we made it this far from what they started and built over these last 100 years."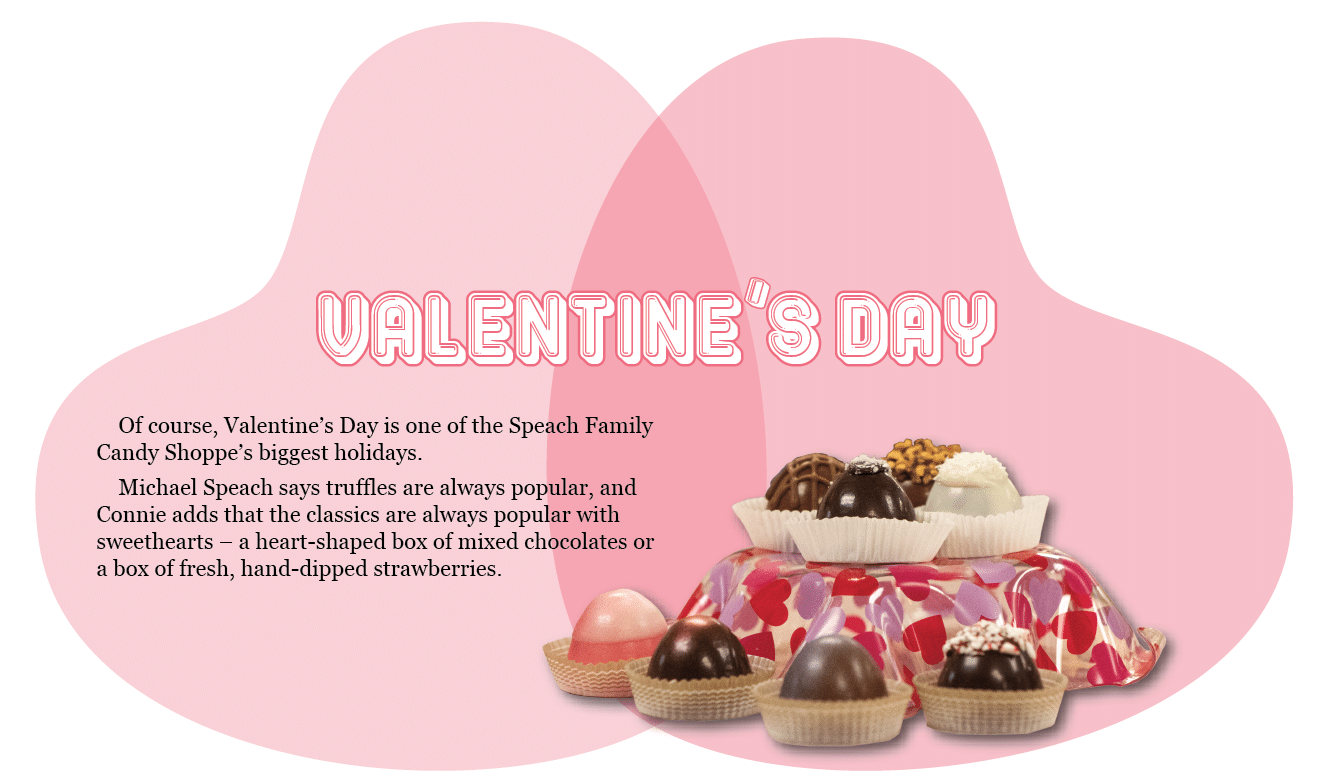 Dawning A New Century
Speach Family Candy Shoppe has always been an active community member. But in 2020, the family-owned business will mark its 100th anniversary with a unique form of community engagement.
On New Year's Day, the shop launched its 10 Decades of Giving event. For the first 10 months of 2020, Speach will partner with a different non-profit community organization. A unique candy treat has been devised in honor of each organization, and a portion of the profits from that product will donated to that cause. President Michael Speach Jr. says that the non-profits were selected through an online customer poll.
Customers can order the products from the Speach Family Candy Shoppe website (speachfamilycandy.com). The site also has a link to each non-profit's website so customers can learn more about their role in the community. Speach loves the idea of being a community partner, and sees the 10 Decades of Giving event as a sort of culmination of his family's commitment to the community that has supported it for a century now. The partner organizations include larger, well-known organizations such as The Rescue Mission and Hospice of CNY, as well as smaller organizations like Misfits Animal Rescue & Sanctuary and Front Row Players Inc.
"It was a lot of fun putting this together," Speach says. "It gave me a lot of satisfaction to reach out to these organizations and use my creativity for something positive. This will not only enable us to make a financial contribution to each of these non-profits, but people will be able to learn more about what these organizations do. We are very excited about it."
Another initiative launching this year is 100 Products for 100 Years.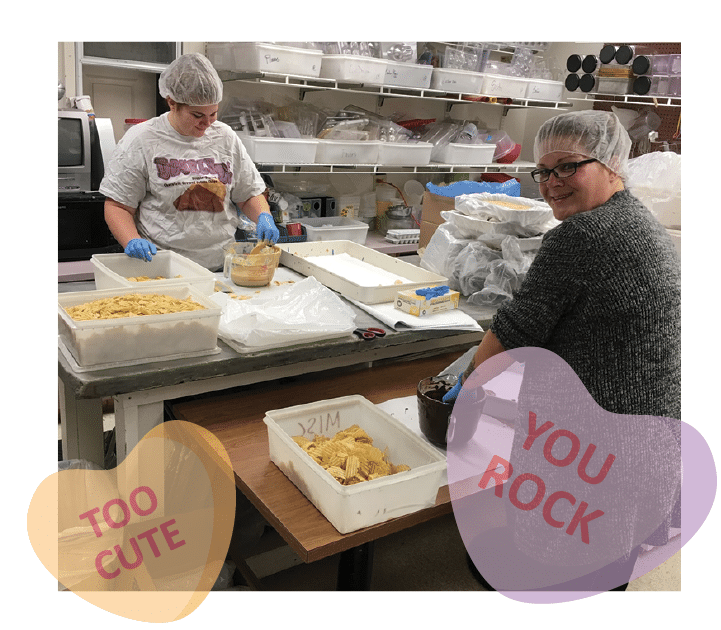 "Basically, we're bringing back some of our most popular products that we've made over the past 100 years," Speach says. "It's another way of honoring our parents, grandparents and great-grandparents."
Three of the items have been released on the store's website – a 2019 Advent Calendar, a Holiday Hostess Box of high-end chocolate creams and a selection of limited-edition hot cocoa mixes. Speach says he wants to keep most of the upcoming products a surprise for customers, but he promises a mix of old favorites, updated classics and new items. Check the store website often for more products and surprises.