Downhill Skiing, Snowboarding and Snow Tubing
Camillus Ski Hill – Described as a "diamond in the rough" by Camillus Ski Association President Andy Arbital, the volunteer-run facility offers low-cost skiing, snowboarding and snow tubing. Visitors can also take lessons, stop by the consignment shop or pick up snacks and a cup of hot chocolate at the snack bar. Keep in mind, hours depend on conditions.
Where: 401 Blackmore Rd., Camillus.
More information: camillusskihill.com.
Four Seasons Golf & Ski Center – Looking for a family-friendly option on the east side of town? Bill Hane, operations manager at Four Seasons, says about 80% of their clientele falls between the ages of 5-12. In addition to snow tubing, downhill skiing and snowboarding, guests can rent cross-country skis and take them across the street to Green Lakes State Park.
Where: 8012 E. Genesee St., Fayetteville.
More information: fourseasonsgolfandski.com.
Greek Peak Mountain Resort – Greek Peak offers something for every member of the family, including a tubing center, 55 trails for downhill skiing and snowboarding and a terrain-based learning area where families can take lessons together. "We actually build the snow feature so it's easier for people to learn how to do some of the fundamentals," says Kimberly Thayer, group sales manager. If you'd rather stay indoors, Greek Peak also has an adventure center and an indoor water park that is kept at 84 degrees year-round.
Where: 2000 Route 392, Cortland.
More information: greekpeak.net.
Labrador Mountain and Song Mountain – Operations Manager Sheila Larkin says Labrador Mountain and Song Mountain both offer discounts on family season passes, as well as several different lesson packages for skiing and snowboarding. During the 2019-20 season, they will also partner with Killington Resort and Pico Mountain in Vermont to offer discounted lift tickets for those with season passes.
Where: 6935 Route 91, Truxton (Labrador Mountain); 1 Song Mountain Rd., Tully (Song Mountain).
More information: skicny.com.
Toggenburg Mountain – Skiers and snowboarders alike can take advantage of Toggenburg's 21 trails and two terrain parks, or sign up for private or group lessons. We talk to a ski instructor on  page  9. Need a bite to eat after hitting the slopes? Toggenburg also has a restaurant, The Foggy Goggle.
Where: 1135 Toggenburg Rd., Fabius.
More information: skitog.com.
Woods Valley Ski Area – Located near Delta Lake in Oneida County, Woods Valley recently expanded its snowmaking operation. Families can take advantage of skiing, snowboarding, snow tubing, a cafeteria and live music, all in a tight-knit setting. "Everyone remembers you," says Nuala Woods, part-owner. "Everything we do caters to families."
Where: 9100 Route 46, Westernville.
More information: woodsvalleyskiarea.com.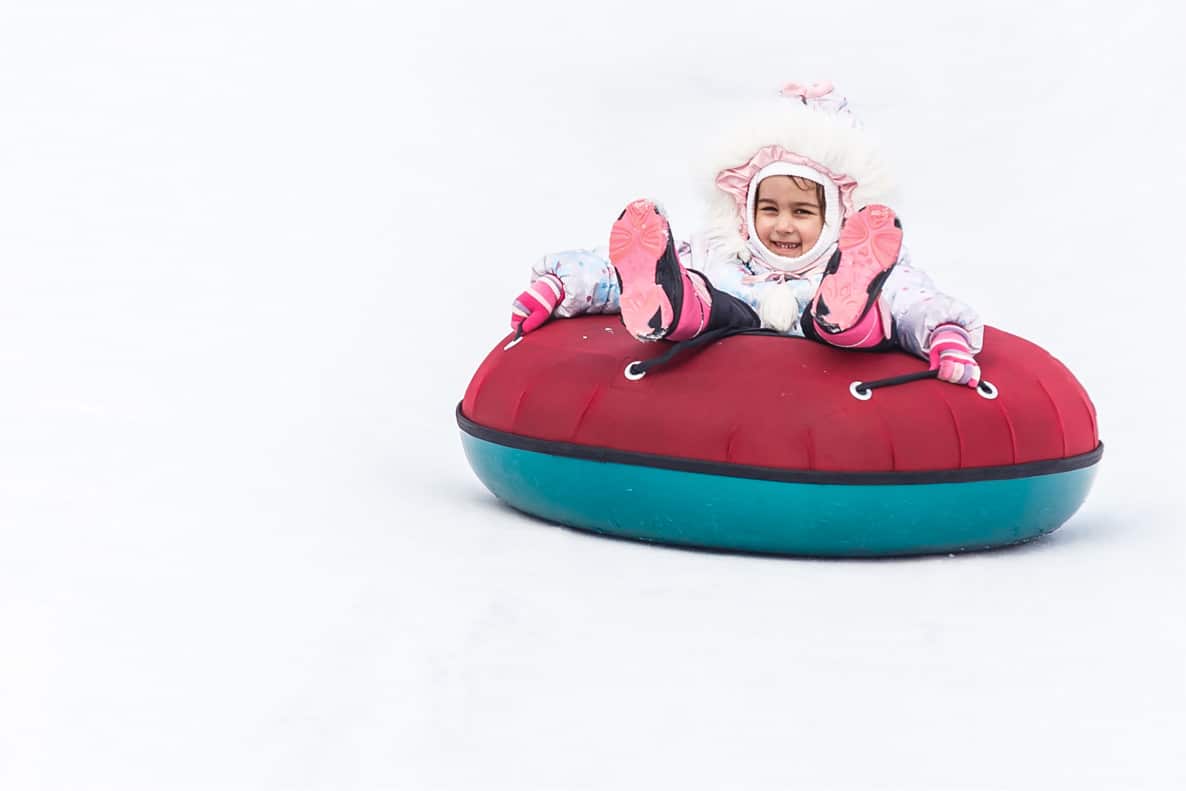 Cross-Country Skiing, Snowshoeing
Baltimore Woods Nature Center – Throughout the winter months, snowshoers can explore Baltimore Woods' six miles of trails. Don't have a pair of your own? Rentals are available in both children and adult sizes during the Interpretive Center's business hours. During events in January, families can also go for a hike or create crafts with materials found in nature.
Where: 4007 Bishop Hill Rd., Marcellus.
More information: baltimorewoods.org.
Beaver Lake Nature Center – Beaver Lake Nature Center offers multiple trails for snowshoeing and cross-country skiing. It will also hold several events throughout the month of January, remaining open until 9 p.m. Jan. 2-5 for moonlight skiing and snowshoeing, and holding a snowshoe clinic every Saturday and Sunday afternoon (depending on conditions).
Where: 8477 E. Mud Lake Rd., Baldwinsville.
More information: onondagacountyparks.com/parks/beaver-lake-nature-center.
Highland Forest – Dubbed the "Adirondacks of Central New York," Highland Forest is home to 40 miles of trails for cross-country skiing, as well as six trails for snowshoeing. Equipment rentals are also available. Don't forget to check out the horse-drawn sleigh rides every Saturday and Sunday throughout the month of January.
Where: 1254 Highland Park Rd., Fabius.
More information: onondagacountyparks.com/parks/highland-forest.

Ice Skating
Clinton Square Ice Rink – First opened in 2001, more than 20,000 people visit the Clinton Square Ice Rink each year, according to ILoveNY.com. The rink is open daily until mid-March, but hours are weather-dependent. The city of Syracuse also manages Sunnycrest Ice Rink and Meachem Ice Rink, both indoor rinks. The admission cost for all three rinks is the same: Adults – $3; Children 12 & under/seniors – $2. Skate rentals are $3.
Where: 2 S. Clinton St., Syracuse (Clinton Square Ice Rink); 698 Robinson St., Syracuse (Sunnycrest Ice Rink); 121 W. Seneca Turnpike, Syracuse (Meachem Ice Rink).
More information: syracuse.ny.us/parks/iceskating.
Cicero Twin Rinks – Looking for an option outside of the city? Cicero Twin Rinks holds a family skate most Sundays (except Jan. 19) from 1-3 p.m. Admission is $5 and skate rentals are $2.50.
Where: 5575 Meltzer Ct., Cicero.
More information: ciceroicerink.com.