The buzz is growing for welding at Corcoran High School.
Instructor Jose Ocasio said during the last week of September alone, five students interviewed for the school's welding program. A new state-of-the-art lab may be to blame.
"It's this incredible thing that all of a sudden it's just boom, this excitement for welding," says Nick Lisi, the Business and Higher Education Liaison for the Syracuse City School District's 27 Career and Technical Education programs. "Who would have ever thought? But it's happening. It gives you chills because you think, 'ok, well before there was this program, these students never even knew about it.' Now they know about it, they're excited about it. And there's a pathway to jobs, there's excitement from businesses for the students. It's the perfect marriage."
Ocasio – a former instructor at Mohawk Valley Community College – says that as far as he knows, this is the only high school welding shop of its kind in the state. It came online this past May after about two years of construction. During the 2018-19 school year, members of the program were transported to the Johnson Center downtown to practice welding (that space has since been repurposed to house the Promising Futures Leadership Academy). Some of those students were able to get their first look at the lab during a six-week bridge program over the summer.
Welding Industry Outlook
Lisi says the lab was built, in part, because there is a need for welders in the Syracuse community and beyond.
"Businesses are reaching out to us," Lisi says. "They are not shy. They're seeing our students as their next employees. We meet with businesses regularly and they're all saying the same thing: they have employees that are retiring and they have no one that is there to fill, so here we are. And that really has been the motivating factor to get these programs going."
Ocasio says the need for welders is especially high in fabrication and manufacturing. Cal Manning – who has been a welding instructor at Haun Welding Supply for the past nine months – says that local companies are always looking for welders.
"It's going to be huge, getting these kids familiar with [the industry] and understanding it," he says of the new lab. "I think it will really help the industry."
"We have the machinery to actually do real life things. It gives [the students] a more tangible experience. When we talk about it in lecture, we go over safety and I show them the things that you can actually do, and then I come [in the lab] and actually do it with them, it gives them the whole experience. They can actually feel what they're learning rather than just learning about it in a textbook."

– Jose Ocasio, welding instructor
Sponsorship by Lincoln Electric
Though the funding for the lab came entirely from the Syracuse City School District, all of the machinery and safety equipment are sponsored by Lincoln Electric (as Lisi explains, it's similar to how a media lab would choose Mac computers). This sponsorship allows Corcoran to get some of the company's newest gear and machinery, and gives them access to numerous other resources, including manuals and additional education for instructors.
"For the most part, it's hard to get manufacturers on the phone if you need something," Ocasio says. "If you're a sponsor with Lincoln, you can just call their rep, the rep comes in and tells you, 'Ok, x, y, z is wrong with the machine, and this what you have to do to fix it.'"
Each student in the Corcoran welding program is required to provide three things: jeans, shirts and steel-toed boots. The school supplies the other necessary equipment, giving each student a duffel bag that contains an auto darkening helmet (each is then re-purposed when a student graduates), bandanas, gloves and a jacket, all of which are supplied by Lincoln Electric. And Lisi says this is the same safety equipment a welder in the field would use.
"In all of the CTE programs in Syracuse, [Director] Bob Leslie wants students to use the same equipment that's used in the profession," Lisi says. "Students that are using Lincoln Electric machines could go to G.A. Braun, and they may see the exact same Lincoln Electric welder."
State-of-the-art technology
Corcoran underwent construction over the summer and the new welding lab caught the eye of some of the workers. "It's like their dream shop," Ocasio says. "They come in, they look at the machinery and they're like 'Oh wow!'"
A converted technology room and office space, the welding lab features some of the newest machinery that Lincoln Electric offers. Each of the 16 booths contains a multi-process welder, which is unique from the ones previously used at the Johnson Center.
"A lot of people have to shut off their welder, plug in a different welder or plug in all the leads and take the leads off," Ocasio says. "These welders already have all of the processes built in, and they have software, so whenever you turn on the machine, you set which process you want and it will deactivate one plug and activate a different plug."
These welders can do 453 different types of welds and are bluetooth capable, enabling Ocasio to plug in his laptop and check a student's progress that day, among other things. Each booth is also equipped with a state-of-the-art ventilation system. This allows Ocasio to talk to his students while they're welding without shouting, something not normally possible because of the noise.
"Over the summer, we might have had 12, 13, 14 students all welding at the same time," Lisi says. "I mean it's a shop, but you could still have a conversation…It's pretty amazing."
Another unique feature of the Corcoran welding lab is the robotic arm welder, created to mimic those found in the auto industry. Students can also take advantage of the fully automated plasma table, which allows them to draw and transfer files to it, then cut out the parts.
For Ocasio and his students, the impact of the new lab has been immediate.
"We have the machinery to actually do real life things," Ocasio says. "It gives [the students] a more tangible experience. When we talk about it in lecture, we go over safety and I show them the things that you can actually do, and then I come [in the lab] and actually do it with them, it gives them the whole experience. They can actually feel what they're learning rather than just learning about it in a textbook."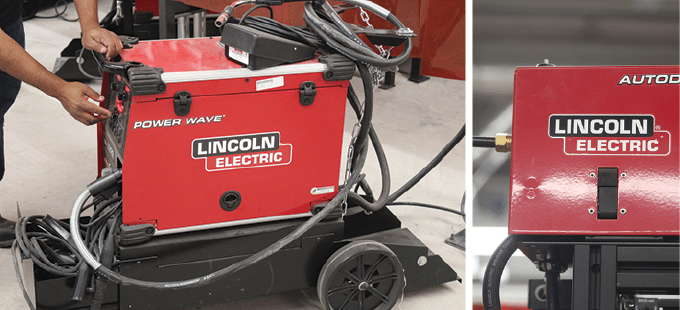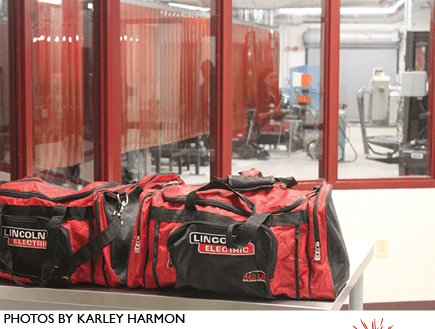 Fast Facts
Welding Program at Corcoran:
The welding program is one of 27 Career and Technical Education (CTE) programs in the Syracuse City School District. There are CTE programs in every high school in the district.

Ocasio says students in the welding program begin by learning about safety and the basics of several different welding processes. During their sophomore and junior year, they also talk about the different job options in the field and start the college process. Two students can then attend Lincoln School during their senior year.

Lisi says that 14 students are enrolled this year.

With all CTE programs in the district, students from any school can apply to their chosen program during their eighth-grade year. They meet with administrators and teachers from that school to make sure the program is a good fit for them.

Q&A with welding instructor Jose Ocasio:
Tell me a little bit about how your interest in welding developed.
I come from a family of auto mechanics. A lot of them actually either did welding or worked in most of the factories around this general area. So from a young age, I was exposed to welding. Once I went to college, my criminal justice advisor kind of directed me toward welding, and once I actually started welding again, I found a love and kind of progressed into what it is now.
Why did you decide to become a teacher?
That interest developed with another teacher that I had. I went to Mohawk Valley Community College as a Criminal Justice major and I took Spanish. I needed a language elective. I spoke with the Spanish instructor at the time, and he actually showed me that being a teacher can make a huge difference. At that point in time, I didn't know if I wanted to continue in college, I was kind of hesitant about going back and I had some bad experiences at other colleges I went to. Just talking to him, it kind of drew me back into college and I realized that in order for me to make a difference, especially in the area, there's only one way to go, and that's to start with the young people around the area. Honestly, I think teachers are underrated because if you think about it, every single profession has to go through a teacher. And to be honest with you, the teacher has the most influence. The teacher can make, based off their style and what they teach, really productive people in society or they can make counterproductive people in society depending on the engagement. So when it comes to teaching, I think it was just that one teacher that kind of drew me in.
How did you first become involved in the program at Corcoran?
I became involved with the program here when it was first being developed. I was a welding instructor at MVCC, so we were working on a bridge program between MVCC and this general area. After the program I decided I wasn't going to teach anymore and Bob
Leslie decided that it wasn't time for me to retire yet, I was a little too young. The job opened and I happened to see it online and I said 'why not.' I ended up applying for the job and was lucky enough to actually be interviewed and I got the job…[Bob Leslie] definitely was a huge influence in me applying for the job.
What has been your favorite part of teaching at the high school level?
That we get to implement welding at a younger age. I taught at a college for about eight years, and teaching at a college, I had all levels. I had people that were just done with the military, I had people that were straight out of high school, so I had people from different levels. Here we start with ninth grade, so we start them young.
What do you see in the future for the welding program?
For the future of the welding program, I see a lot of things, especially from my standpoint at this point in time. I've realized that a lot of businesses need welders, and we have gotten such great feedback from the community and from businesses as a whole, so at this point, the sky's the limit. In the future, I see us becoming a Lincoln school or an American Welding Society facility or something that's unique. The way that the program is going, I see a lot of things. The future in this case really is untold, there's so much potential that this program can develop into and with the feedback that we're having, I see it growing into something really big.
This interview was edited for length and clarity.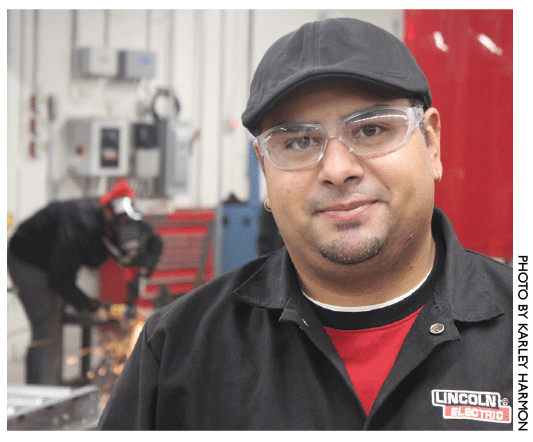 Profile
Welding Lab Brings Happiness
It was a busy summer for Priscilla Jones-Johnson.
In addition to balancing two part-time jobs, the Corcoran High School senior participated in a six-week welding program at her school. But there was always something she looked forward to: spending time in Corcoran's new state-of-the-art welding lab.
"What kept me stable was coming here every morning," Priscilla says. "This is how I get started. This excites me. I honestly don't believe I could go to my other jobs and feel happy, because out of all my jobs, this is where I feel happy."
The summer bridge program ran from Monday through Thursday, and included training by welding instructor Jose Ocasio and a visit to Feldmeier Equipment, a local company. The Syracuse City School District partnered with CNY Works to give all participating students a financial stipend.
"At this point, if I really put my mind to it, I can go anywhere…I'm pretty sure a lot of people in high school can't say that right now."

– Priscilla Jones-Johnson, Corcoran senior
Priscilla – who also holds the school record in the weight throw as part of the track and field team – first joined the welding program during her junior year. She said that she knew the instructor at the time and was able to get to know the program through him. When she began to practice welding in the Johnson Center, a passion was born.    
"I love welding," she says. "Just being inside a booth and as you work in there, actually being able to do things that most people can't imagine doing, that just excites me and motivates me to do better for myself. Right now, my life is welding, that's how I feel. Everything I'm trying to do is going towards my goal."
That goal, for now, is to become certified in different types of welding, but Priscilla hopes to own her own business one day. "[The welding program] has prepared me a lot," she says. "At this point, if I really put my mind to it, I can go anywhere…I'm pretty sure a lot of people in high school can't say that right now."
Priscilla is taking full advantage of Corcoran's new welding lab. Over the summer, she helped build a metal bench, and spent the beginning of the school year working on a cougar head that will be a mascot for the school. Priscilla said that these projects, and others, have taught her important skills that extend beyond her welding booth.
"Welding is not about actually going out there and welding," she says. "It's more teamwork. When you come inside a welding shop, it's not just you, it's everybody. In order for everything to work out, we all have to work together."
Ocasio has been at Corcoran since May, and says he has been impressed by Priscilla's work ethic.
"Look for the perfect student and she's pretty much there," Ocasio says. "She takes it upon herself to help others, so she's really generous. She is definitely progressive. She takes the lead. If she has a good idea, she's not afraid to actually voice it and try new things."