Thanksgiving is the perfect time to practice gratitude. This collaborative gratitude garland gives every family member a chance to highlight something they are thankful for this year. The garland is assembled ahead of time using either scrap fabric or felt, which is cut into strips and tied to a piece of twine.
Decorative tags can be made out of scrapbook paper and placed in a jar near the garland. Friends and family can then create their own personal note to hang on it.
Supplies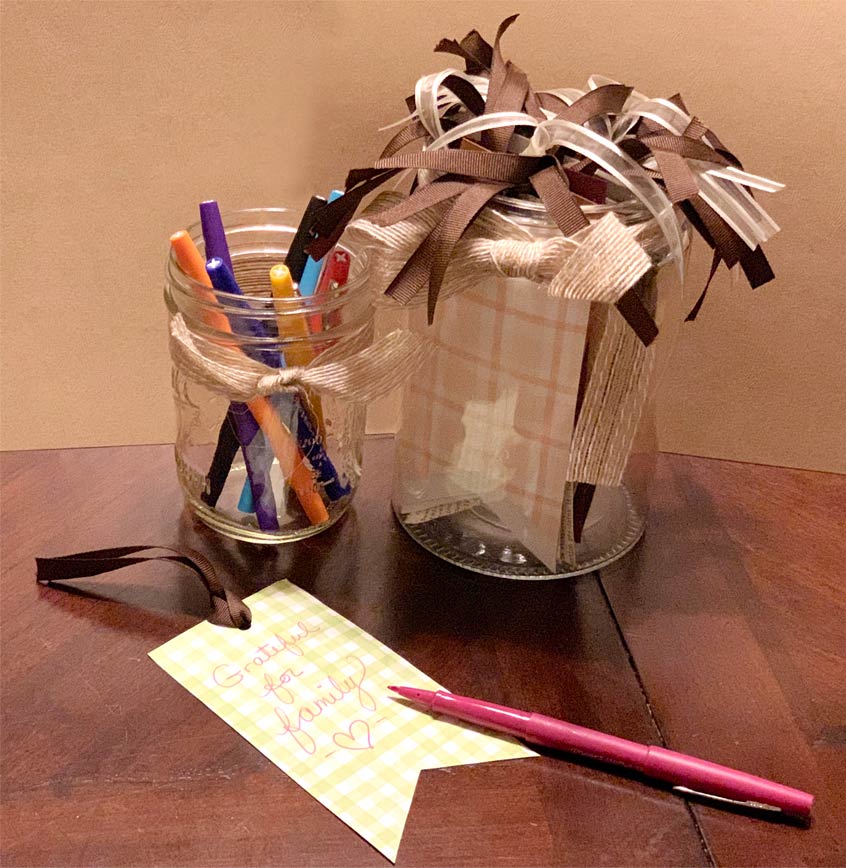 Jute twine
Felt or scrap fabric
Decorative ribbon
Scrapbook paper
Scissors
Single hole puncher
Steps

Measure how long you want your garland to be (I used the entryway to my dining room).
Cut the felt or fabric into strips at your desired length (I cut my felt into 1 ½-inch-by-4 ½-inch strips).
Select a desired pattern for the colors and start tying the felt strips into simple knots around the jute twine. In the example, I tied a piece of decorative ribbon between each felt piece.
Continue tying until the garland is the desired length.
For the tags, cut the scrapbook paper pieces into small tags and punch a hole at one end to affix the ribbon.
Place the tags in a decorative jar, along with some markers or pens, near the garland.
Invite your friends and family members to add to your collaborative artwork by writing something they are grateful for on a tag and tie it to the garland.