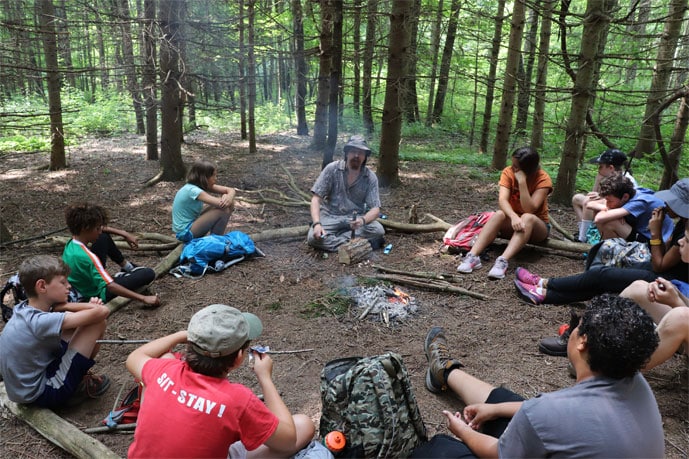 The benefits of … nature play are so great and so numerous; our camp families know this and see it for themselves when their kids come home dirty, tired, and smiling at the end of each day.

–Tom Meier, BWNC director
Dozens of campers fill the 182 acres of Baltimore Woods Nature Center's preserve in Marcellus every summer weekday. From July 8 through 12, 11 Voyager campers, in grades 5 to 8, explored the woods and learned skills in the week's Wilderness Survival-themed camp.
The counselor for the camp was Jeff Devine, a certified wilderness skills instructor and self-described jack-of-all-trades. (Devine's pursuits include being a game designer and actor for the Museum of Intrigue and a lead actor at Frightmare Farms in Palermo, in addition to teaching wilderness skills at Baltimore Woods and other nature centers.)
"I have always loved the outdoors and grew up playing in the woods and camping with my family," said Devine, who answered questions by email. "Over the past few years I have done programs on foraging for wild edible plants, winter survival and snow shelters, how to find your way without a map and compass, and how to make fire by friction."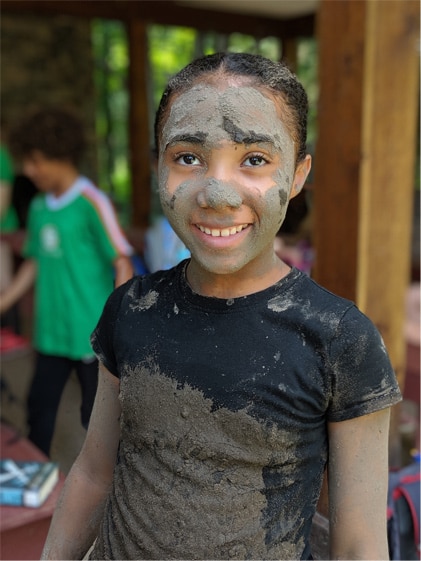 Tom Meier, Baltimore Woods camp director, said survival skills camps have been a part of the Voyager Camps from the beginning, in 2012. "We were looking for a way to continue engaging our campers as they grew older, that appealed to their sense of adventure and thirst for skill-based hands-on learning," he wrote in an email.
Over the course of the week, Voyager campers played sensory games; explored the preserve's natural mud swamp; built a one-match fire and cooked hot dogs; foraged for wood and carved it; identified wild and edible plants; and made bracelets from cording.
Campers arrive with different levels of skill. "A lot of the camp activities can be challenging and not every camper has the same level of skill," Devine said. "I try to meet the campers where they are and help them improve the skills they have and gain some new ones."
Most campers return to Baltimore Woods year after year, and many continue as volunteers once they age out of the camps, Meier said. "A big part of what brings families back year after year is our kid-centric hands-on programming delivered by experienced counselors who are very skilled at working with children outside."
Devine said his goal is not to teach skills so much as to help campers connect with nature. "If I can help spark someone's interest in nature by showing them an edible plant or make them more comfortable in the woods by teaching them how not to get lost, then maybe they will gain a little more appreciation for the natural world and hopefully share it with others."
I tell everyone in order to become good at something you have to start out by being bad at it. Even a failure can be a good experience if we can learn from it and find a better or different way for next time.

–Jeff Devine, Wilderness Skills counselor