Ever since she was a first-grader, Emma Streeter has wanted to be a veterinarian. Now 13, she raises animals on a Jamesville hobby farm with her parents.
The animals are: three dogs, two rabbits, two horses, two mini pigs, about 30 hens, four roosters, 10 chicks, five turkeys, two ducks, and two geese. Emma and her parents, Katy and Darren, have lived on the 110-acre property for about two years. They started acquiring animals when they still lived in Fayetteville.
"When I was about 4, my dad got me some chicks from the local farm store. I really liked it, so every year it's been kind of our tradition to get a couple more chickens," Emma says. "It just kind of grew from there."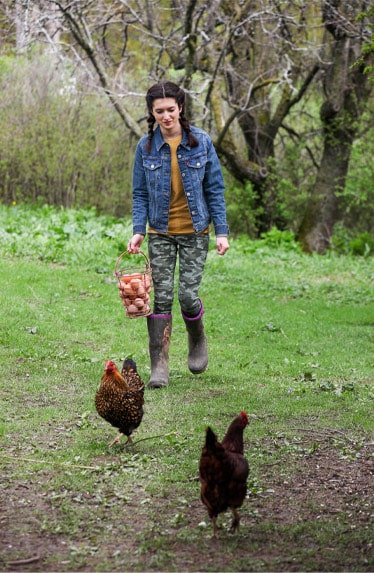 The chickens were kept on the farm when the Streeters were living in town and Emma's father was a caretaker for the woman who lived there. Millie, the first mini pig, started as a house pet. When the family moved to the farm, they got horses—Emma rides—and, eventually, another pig.
Wind Rush Farm is located on Sweet Road, where traffic is fast, running between Route 20 and Route 173, but there are no neighbors to speak of. The farm consists of a 200-year-old house, a barn for the horses and storage, rabbit houses and pig huts, and a large chicken coop with a fenced enclosure. All but the house were built by Darren, who is a woodworker. Next to the barn there's a horse pasture, and beyond that are crop fields of alfalfa and corn, leased by farmers.
The tasks of caring for the animals fit in among the family's other jobs. Katy is a nail tech at a salon, Darren works as a project manager for a heating and air conditioning company, and Emma is a seventh-grader at Jamesville-DeWitt Middle School. Every morning, Emma gets up and feeds and waters the animals before getting ready for school. In the afternoon, she collects and washes the eggs, and puts them in the refrigerator.  On weekends, Emma and her father clean out the coop, stalls, huts and cages. They also do any necessary repairs to buildings.
Winter tests the humans, the farm animals, and the living spaces. "They call it Wind Rush Farm for a reason," Katy says. "There's nothing blocking us around here. We get heavy winds and we get lots of snow."
In the coldest months, the Streeters fortify their outdoor animals with extra food, heated water bowls, and warming lamps. However, a host of ravenous predators look for opportunities to attack the chicken coop. "We've had hawks, coyotes, weasels, fox, mink, fishers," Emma says.
Around February, Emma was inside her room and heard squawking coming from the chicken coop. She yelled out her window and clapped, and a fox ran off. Unfortunately, it had already killed two of Emma's chickens. Darren came home to secure the coop, and the next day they filled in the hole the fox had dug and sunk the fence deeper into the ground.
"Winter is a hard time on the hobby farm," Katy observes. But Emma doesn't complain about the work involved. "Nothing stops her. She knows the animals need to be taken care of every day. Sometimes her father has to plow a path to get to their houses. She's always been good about getting out there with them."
Because the farm has hens, there are lots of eggs. For a while, the eggs were given to relatives, friends and coworkers. But about a year ago Emma began selling them to Heritage Hill Brewhouse & Kitchen, a farm-to-table eatery in Pompey. The second coop has made egg collection much easier; Darren built it with a door that allows her to reach in and get the eggs without going inside. The sale of as many as 10 dozen eggs a week helps offset the cost of the chicken feed. The labels on the egg cartons read: "Emma's Eggs, Wind Rush Farm, hand collected."
"People always come up to me and say, 'Oh, are you Emma? I love your eggs!' It makes me feel good that people like them," she says.

Keeping the chickens healthy, so they lay healthy eggs, is a lot of work. Emma has always been a researcher. She has a shelf of books about pigs, horses and chickens. She watches videos to learn how to do things, and she reads magazines like Chicken, purchased at CountryMax or Tractor Supply, to discover new strategies for curing the illnesses her birds come down with. When a chicken has a cough or odd-colored poop, Emma tries things out.
Emma is fond of her chickens, and if they get sick, she does her best to nurse them back to health. But if they die, she at least tries to learn how to keep the remaining animals well in the future. However, much is out of her control, as when the fox got into the coop. Or the time one of the turkeys went off for a while. "One day she showed up with these baby turkeys," Emma says.
Though Emma is practical about some of her farm animals and their ways, others are more pets than livestock. Well, one in particular. Millie Mae the mini pig is a favorite. Now 2 ½ years old, Millie was just a heartfelt wish when Emma received her on Christmas.
Emma, as usual, had done a lot of research and was really into the idea of having a pig and how much fun it would be. "And then I got Millie and it was," she says with a happy sigh, "the best day ever!"
As a piglet, Millie weighed about a pound and could fit in Emma's hand. But even so-called mini pigs get bigger, and today Millie Mae weighs 95 pounds. Emma and Katy insist she doesn't look that big because she is long. And Millie was raised to be a house pig: She uses a litter box, can sit, will walk on a leash, and likes to have her belly rubbed. Emma keeps Millie on a strict diet of pig pellets, two cups morning and night, and greens and carrots as special treats.
Millie's fellow pig, a pot belly and mini mix named Pumbaa, is a male adopted in January when his owner couldn't care for him anymore. Pumbaa is not in the same league as Millie. He isn't house trained and can't tolerate a leash.
Emma and Katy agree that Pumbaa is something of a troublemaker. "He likes to dig and scratch around and roll in mud. He likes to destroy things," Emma says. "Millie is sweet and playful. She likes to cuddle."
So he spends all of his time outdoors, like a regular pig.
What's next for the farm and the family? Emma hopes to intern at her dogs' vet, Manlius Veterinary Hospital, this summer. Later, she says, "I want to finish up with school and go to Cornell University to try and get a degree to be a vet." And she might get some more animals: "I want a goat and a donkey."
"It's ever-growing," Katy concurs. "We've got many other ideas in our heads."