Best of Syracuse
48 Best of Syracuse 2018 winners for parents, kids and families.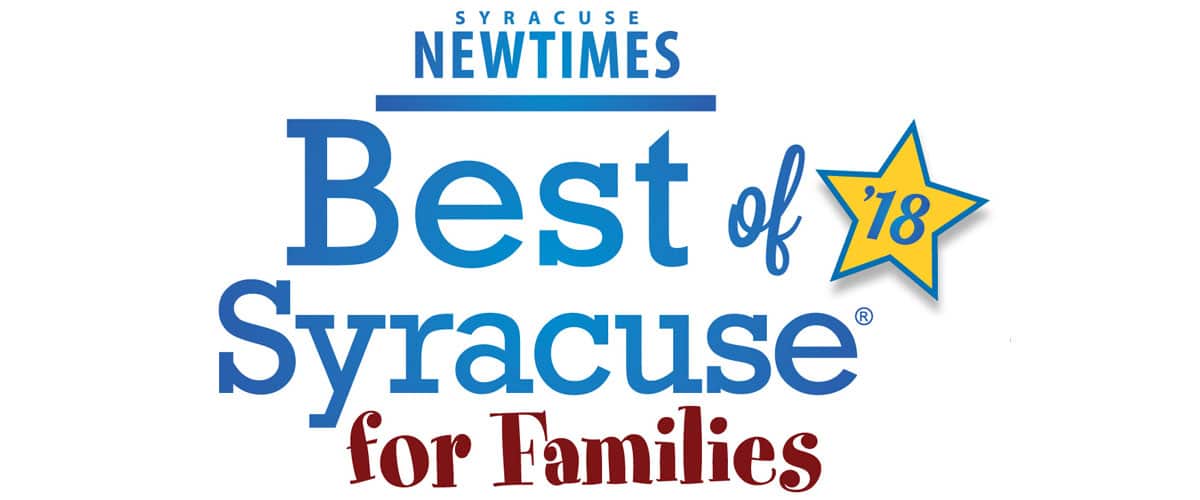 Every year, the Syracuse New Times — our sister publication — puts out a public survey to see which area businesses and locations readers and local residents think are at the top of their game. After months of nominations and voting, the best of the best for 2018 were announced in early October. Winners were invited to an exclusive party at downtown Syracuse's Dinosaur Bar-B-Que, where they were treated to complimentary food, photo ops, networking and, of course, picked up their "Best of Syracuse" plaques.
Below are some of the categories most relevant to our audience here at Family Timessyracusenewtimes.com magazine, the ones most likely to be of interest to parents, kids and families. Head to to see the full list of winners.
Best Date Night Location: Francesca's Cucina
Best Sports Venue: Carrier Dome

Best Gymnastics: 

Blaze Gymnastics

Best Outdoor Trails: 

Green Lakes State Park
Best Place to Ski: Labrador Mountain
Best Place to Bike: Onondaga Lake Park
Best Place to Ice Skate: Clinton Square Ice Rink
Best Bowling Alley: Flamingo Bowl

Best Pumpkin Patch: 

Tim's Pumpkin Patch
Best Apple Picking: Beak & Skiff

Best Amusement or Water Park: 

Enchanted Forest Water Safari

Best Go-Karts: 

Thunder Island
Best Preschool: Jowonio School
Best After School program: Learn As You Grow

Best Playground: 

Wegmans Playground at Onondaga Lake Park

Best Library: 

Liverpool Public Library
Best Family Restaurant: Tully's Good Times

Best Pet Daycare: 

Justin's Canine Campus

Best Vet: 

Liverpool Animal Hospital

Best Animal/Pet Rescue: 

Helping Hounds Dog Rescue

Best Animal Whisperer: 

Justin Bonn, Justin's Canine Campus

Best Radio Personality: 

Ted Long & Amy Robbins, 93Q
Best TV Personality: Christie Casciano
Best Weatherperson: Wayne Mahar
Best Local Ambassador: Carrie Lazarus

Best Burger: 

Blarney Stone

Best Hot Dogs: 

Heid's of Liverpool
Best Pizza: Twin Trees
Best Birthday Cake: Wegmans

Best Cupcakes: 

Crave Dessert Studio

Best Doughnuts: 

Glazed and Confused

Best Frozen Treats: 

Gannon's Isle Ice Cream
Best Local Coffee: Café Kubal
Best Family Doctor: CNY Family Care
Best Health Store: Wegmans

Best Hospital: 

St. Joseph's Hospital

Best Pediatrician Group: 

Child Health Care Associates

Best Dentist: 

Revercomb Dental Group
Best Organized Walk/Run: Paige's Butterfly Run

Best Bakery: 

Harrison Bakery
Best Breakfast Spot: Stella's Diner
Best Movie Theater: Movie Tavern

Best Drive-In: 

Midway Drive-In 

Best Ethnic Festival: 

Festa Italiana Syracuse
Best Food Festival: Taste of Syracuse
Best Radio Station: 93Q
Best Museum: The MOST

Best Dance Program: 

The Francis Academy of Irish Dance
[fbcomments url="" width="100%" count="on"]