Allison and Ian Cornue have full lives: Both co-own family businesses, and their Cazenovia home is bustling from the adventures of their little girls — Viola and Arielle — and their affable dog, Wally. As engaged as they are with the day-to-day joys of family life, the memory of their first child —  Caeli Rose — is omnipresent.
Allison was a finalist in Family Times' Mommy + Me Cover Contest, a competition for mothers and their babies born in 2017. In her essay for the contest, she wrote: "A 'rainbow baby' is a baby that is born following a miscarriage, stillbirth, neonatal death or infant loss. … I would like to help other moms know that you are not alone, it's okay to share your story, and if you believe in the power of a 'forever love,' it will always stay with you."
Caeli was diagnosed with a form of skeletal dysplasia in utero. Her condition meant that her bones were brittle and subject to fracture. As she grew, the bones could not accommodate her growing organs. Allison was induced at 24 weeks in September 2014, and Caeli died during delivery.
The Cornues initially struggled to balance their need to mourn Caeli with their determination to move forward.
"The hardest part was leaving the hospital without her," Allison recalls. "The nurses (at Crouse Hospital in Syracuse, where Caeli was born) made it as easy as possible."
After considering ways to preserve memories of their daughter, the Cornues decided to have some photographs taken. Jennifer Wolsey, a local photographer, runs a nonprofit called Always Love. She offers families who have lost, or will soon lose, their babies the opportunity to keep the precious few moments they have with them. She met the Cornues at Crouse. The photographs are not ones they look at often, but the Cornues are glad that they have them.
"I wanted to remember her face," Allison says. "I wanted to have something to document that she was here."
The photos are kept with the other mementos the Cornues have of their first-born daughter — the little baby clothes that a volunteer made for Caeli. Allison wears the tiny ring Caeli was given in the hospital on a chain, along with a small cross.
Moving on after Caeli's passing has been a gradual process. During that first year, Allison, 30, and Ian, 35, tried to get back into their routines. Allison admits that it was difficult for her to resume teaching at her Cazenovia studio, Allure Fitness & Dance, which she co-owns with her sister. Even after a two-month break, her young students — used to seeing her baby-bump — were curious. She sought comfort in a support group, which helped. On the other hand, Ian, who with his father co-owns DR Cornue Woodworks in Cazenovia, dove back into work.
"Everyone deals with grief differently and for me, I needed to get back to my routine," says Ian. "Of course, I was grieving. But I needed to stay busy."
"I've learned through this process that (grieving) isn't black and white," Allison says. "It's very gray. I can see how going through a loss like this can drive some couples apart. I was mad at God sometimes, because I'm not perfect. There are still days I miss her. I've decided that this is my normal now."
Allison says the couple was buoyed by their faith, and by the support of their families. She also got some advice from another mother who had lost an infant: She said to let your partner grieve in the manner that works for him. As the Cornues each managed their grief differently, their bond as a couple strengthened. And before long, they were expecting another baby.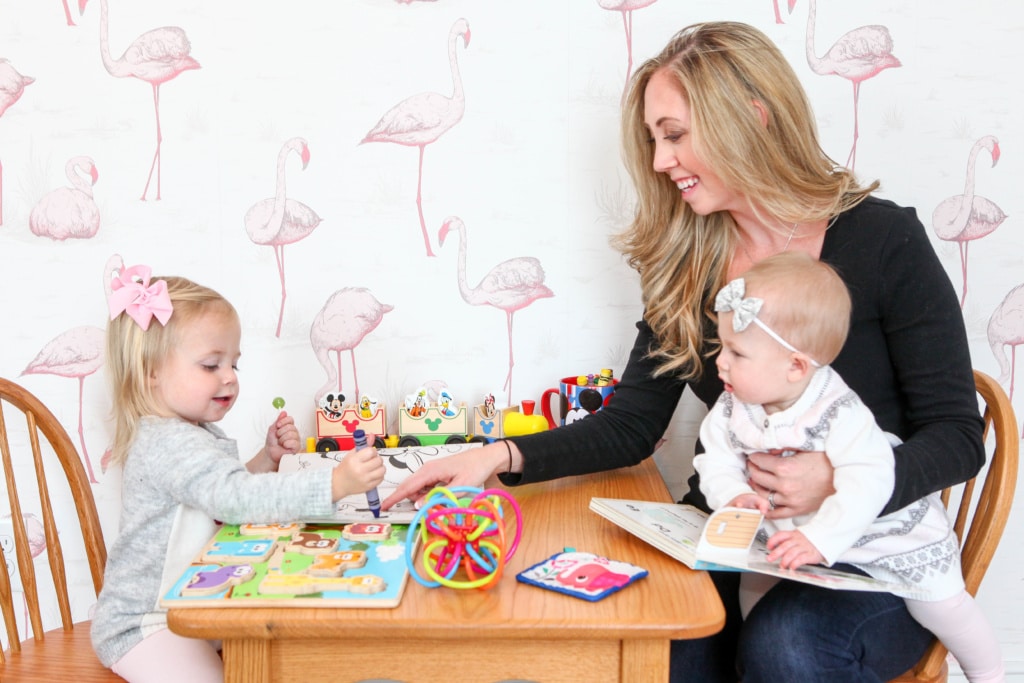 Although Caeli's condition was genetic, it was not inherited from either of her parents. Still, the early months of the pregnancy were filled with worry. "I was very nervous at first," Allison recalls. "I had a lot of anxiety until I got past my 20th week and we had that ultrasound. Everything was great afterward."
Viola Rose was born in the fall of 2015. As the couple held their little girl and looked out the hospital room window, they noticed a double rainbow. The Cornues saw it as a sign that Caeli was with her new sister.
This past March, the family added baby Arielle to the family. Again, they saw a rainbow outside the hospital on the day she was born. Good news continued for the Cornues this summer, when Allison was crowned Mrs. Central New York. She will represent the area in the Mrs. New York State Pageant in Rochester next March.
Allison says she started thinking about how she could help support other families of "angel babies" about a year after Caeli died. She realized that people often struggle with how to approach families that have gone through these types of losses.
"I wanted to do something to help shift the conversations and interactions," Allison says. "There are support groups for people who want that. Those are important. But I wanted to offer something that could inspire hope."
On Sept. 17, of this year — Caeli's third birthday — Allison started the process. She hosted Caeli's Corner at her dance studio; it was described as "an event to honor local angel babies and their mommies." Other businesses donated self-care offerings including chair massages, inspirational items, and a chance for participants to express themselves at a painting station.
On Oct. 28, the studio hosted Caeli's Carnival, an event for families. Donations were collected in support of Always Love. Advocacy for Always Love and spreading awareness of angel-baby families will be the focus of Allison's term as Mrs. Central New York.
And she hopes to continue helping other families find their rainbows, which can be anything life-affirming. "I feel for moms who don't have that connection to something positive," she says. "It helps to have signs that your (angel babies) are still with you."
When asked how people can best approach someone who has suffered the loss of a newborn or infant, Allison says it's best to acknowledge the loss, but it can be with a positive comment about how beautiful the baby was. Avoid clichés and pity. "Just a simple comment like that can let that parent know that you care," she says. "When they want to talk, they will."
Focusing on a positive memory as opposed to the sadness of the tragedy can do wonders for a grieving parent. Allison has her own treasured moments, such as when one of her young dance students asked Allison where her baby was when she returned to work after Caeli's death.
"I told her that she passed away, and, without missing a beat, she said, 'Oh, so she's in heaven now.' She really believed that although I couldn't see Caeli anymore, I should be happy that she is in heaven. That turned my mindset around."
For the Cornues, healing has come not by moving away from memories of Caeli but by keeping her as part of the story of their family. Allison says it's an ongoing struggle. "Mother's Day is still very tough for me," she adds. "And when people ask me about my family, I say that I have three kids."
When asked if he, as father of three girls, could have foreseen how much his life would change in three years, Ian — preferring the attention of his young daughters to answering questions — simply said "no." But he added, "Life with young daughters is definitely different."
"We're tired, but they're amazing," Allison says, glancing at her husband as he plays with Arielle and Viola. "Life is good. We're very good." 
Award-winning writer Tammy DiDomenico lives in DeWitt with her husband and two sons.