Grandparents today are coaching, teaching, helping with homework, providing daily child care, or even becoming the primary caregiver while continuing to work full time.  And they are also increasing in number. Family Times interviewed four local grandparents from different walks of life to illustrate various aspects
of grandparenthood.
David and Linda Rezak, of Syracuse, spend plenty of time with grandchildren Jaylen, 12, Jeffrey, 7, and Mia Rose, 6 months, who live less than a mile away. Their parents, Nikki and Jeff Petties, work in the city school district and have to start before 8 a.m. Jeffrey joins his grandparents for breakfast every morning and his siblings go over there most days in the late afternoon.
David, age 67, still works full time as a professor at Syracuse University. Linda, 67, also volunteers to help organize and chaperone school field trips.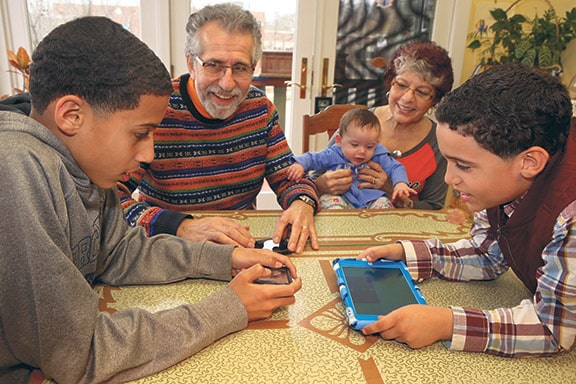 Because you spend so much time with your grandchildren during the week, do you approach your responsibilities the same way you did when you were raising your own children?
Linda Rezak: No, I wouldn't say that. It was a lot more stressful when I was getting my kids to school. Things are more casual. I'm older and calmed down a bit.
David Rezak: They aren't teenagers either, so that's another reason why it's so free of stress. This morning I played a silly indoor basketball game with Jeffrey. We really have a lot of fun with it. I guess you could say this is like payback for the time we put in parenting teenagers!
What about weekends? Do you prefer to get a break from the grandchildren because you spend so much time with them during the week?
DR: There might be an occasional weekend where we don't see them much, but we have a summer place in Erieville and we're there a lot in the spring, summer and fall. They are out there a lot with us, and we also go to ball games.
LR: I think we give each other enough space.
Do you worry about them losing interest in spending so much time with you, even if it's gradual?
DR: We hope to stay relevant to them but not embarrass them.
LR: Jaylen gave Dave that look like, "You're not gonna kiss me in front of my friends."
How does your relationship with your grandchildren differ from the relationship you had with your grandparents?
DR: I didn't know my grandparents.
LR: My dad's family lived in Utica. We only went there a few times a year. I knew them, but they only spoke Italian. It was difficult to communicate with them.
DR: We pattern our grandparenting based on our parents' grandparenting of our kids. My parents were social planners. My mother structured activities, planned events, cultural things, holidays. That's what compelled us to build that special relationship. It really put a slide in our stride.
LR: I worked part time. My in-laws were really excited to help. When my father-in-law, Nick Rezak, couldn't drive and my daughter, Nikki, got her license, she went to visit them once a week. She would bake with them, do puzzles, have dinner with them. She paid it forward.
What's the biggest difference between parenting and grandparenting?
DR: You have to learn that you're not in charge. We have to learn to bite our tongues and kind of back off.
LR: We've been put to that test. You have to step back.
David Hunter raised his only child, DJ, as a single father. Now he lives in Liverpool and enjoys spending time with DJ and Heather Hunter's three children—Aiden, 10, Lily, 8, and Gavin, 3.
Hunter works full time as a fraud investigator, his son is a school principal in the Liverpool school district and his daughter-in-law is employed as an advocate in the Syracuse City School District. At 59, Hunter still has plenty of energy to coach the grandchildren's sports teams, take them golfing, and host sleepovers. His grandkids call him "Papa."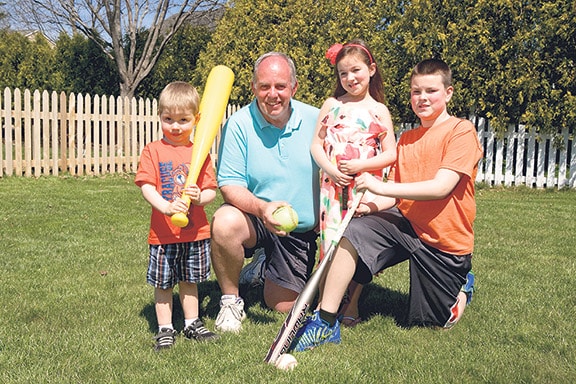 You coached Aiden's soccer team last year. Talk about how coaching your grandson in sports was different than coaching your own son.
David Hunter: The biggest difference is I was a little easier on him. I didn't put as much pressure on him as I did with DJ. Aiden also does baseball, and Lily does softball. I'll practice hitting and fielding with them even if I'm not coaching their teams.
How have you adjusted to caring for three children at a time when, as a parent, you just had to care for one?
DH: You rely on them to watch out for each other a little bit. The oldest is very close to his little brother, so it's easier to do things. I can play board games with Aiden and Lily, but Gavin is too little. We can do movie nights for all three—and luckily they are still young enough where they like the same type of movies. Movie night also means popcorn and milkshakes.
Did you have a similar relationship with your grandparents?
DH: They lived next door to me. I remember my grandmother would give me money to buy comic books. I'd get them at the store, come back and read them there. We got along great and had a great relationship. That really helped me.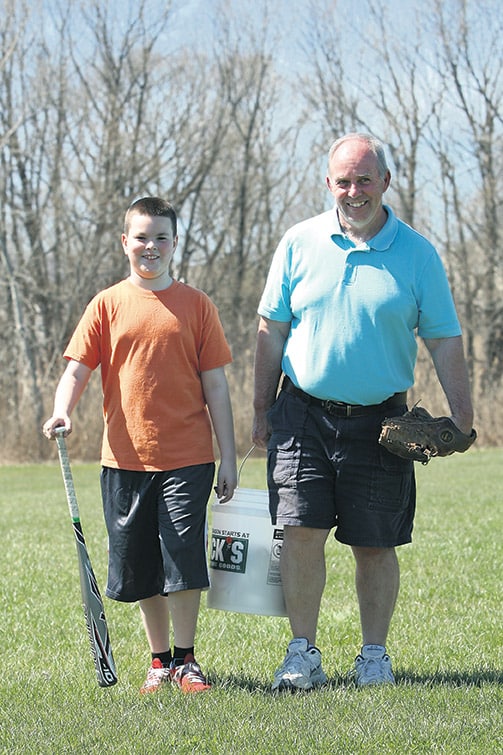 How did you become involved in your grandchildren's school events and education?
DH: The kids ask me themselves if I can go to their assemblies. It's nice to be invited as that special guest. I help them with their homework, but that's where I really see how things have changed. The new math seems more complicated, harder to do. If I show them how I did it, they look at me like it's a foreign language.
Do you worry that the time spent with you won't seem as special as they get older?
DH: Yes. But right now is a happy time. Even with the age of electronic devices, they still appreciate a good game of Monopoly or another board game. For me, it's nice to spend time with kids after being around adults all day. You can't put a price on the time spent with them. Papa worries about when Papa won't be the cool guy anymore.
Michelle Arrindell, 47, is the legal guardian and primary caregiver of one of her grandchildren, Jordyin, age 3. She also has custody of her godchild, 14-year-old Trinity, and sees her other grandchildren Italy, 9 months, and Kadeem, 19 months, multiple times a week.
Arrindell lives in Syracuse and is married to Michael Taylor, but she raised her own three children as a single mother. She has always worked for human services agencies to help those in need. Arrindell is employed full time as a caseworker at Catholic Charities, serves as a youth minister and leads a women's group with her church.
How do you manage all that?
Michelle Arrindell: It's not easy, but I've always been that busy. If I'm not, it doesn't feel right. I've worked full time since 1997. With the church activities, Jordyin comes with me to everything. That's my prayer warrior right there!
Why have you always worked for human service organizations?
MA: When I was growing up, people told me I had a way of understanding others. Everyone said I should be a psychiatrist. I guess this is a way of being a psychiatrist without taking on the costs of medical school.
Are you raising Jordyin the same way as you raised your own children?
MA: I was a mom at 16, so I have learned a lot since they were little. I provide that guidance, but she still sees her mom, Monee Arrindell, at my house and understands that she is her mother and I'm her grandmother. I used to go downstate to visit my grandparents. Jordyin doesn't get to do that, she doesn't get that escape. So I still try to do special grandmother things. We'll go grocery shopping and she'll get to pick out the food. We'll go to the circus, go to McDonald's. I try to separate that from the role I play when I'm telling her it's time to take a bath now or it's time to go to bed.
As far as how you spend time with all of your grandchildren, is your relationship much different than the relationship you had with your grandparents?
MA: I wouldn't say I'm different, but the times and attitudes have changed. We were taught more about independence. My grandmother never took the crust off my brother's sandwich. He cried and cried, and she said, "Do it yourself."
She was from the West Indies. She grew her own stuff and canned it, and then taught us how to do that. As a family, we would all work on the home remodeling, stripping the paint, removing the floors. Families just don't do that today. But Jordyin does help me with the laundry and organizing the closet. I think it's important for us to teach our grandkids how to take care of themselves.
Do you ever think about what it will be like to be an empty nester?
MA: I don't think I could ever get used to not having a child in the house. But I do like the idea of finally being able to get up and go someplace, maybe even getting on a plane and going on a trip, and not worrying about anything. Maybe a little break like that when they are older, but nothing ever too long. Having children and grandchildren around so much is definitely a blessing and a pleasure.
NOTE: Interviews have been edited and condensed.