Sharing nature with your child can be a way to bond, spend meaningful time together and pass your respect and love for the natural world on to the next generation.
Or, let's face it, it can be a total disaster. (I am thinking of the 4-year-old New Jersey girl who stood rooted in place at one of my daughter's birthday parties at a nature center, demanding to know where the sidewalks were!) Planning ahead, and reading books with your child, can help you make the most of an outdoor experience.
There are numerous books about spending time outdoors. Here are a few of my favorites to get you started on your own spring outings.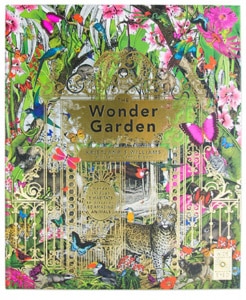 The Wonder Garden, by Kristjana Williams and Jenny Broom, is notable for its lush and detailed illustrations, with the book's illustrator, Williams, given top billing on the cover. This book does what the best books about nature do: It invites a sense of wonder, invoking all the senses and encouraging the reader to place him or herself in the settings it describes. "Soon, you stand alone, swatting and swiping at insects . . . You have arrived in the Amazon, the largest tropical rain forest and one of the richest concentrations of life on Earth." Statistics, descriptions of flora and fauna and images of five astounding world habitats leave an impression that will remain with readers long after the book is put away.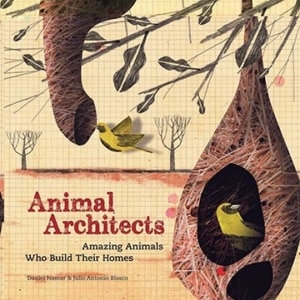 Animal Architects: Amazing Animals Who Build Their Homes, by Julio Antonio Blasco and Daniel Nassar, combines the appearance of a hand-illustrated journal with an architect's project planner. The book focuses on animals' habitats, from beaver lodges to bird nests. Colored pencil drawings are complemented by fold-out flaps that replicate an architect's notebook, listing for each animal dwelling a project name, architects, materials used, date, architect's signature (animal footprint, for example) and scale to indicate the relative size of the actual animal's nest or home. This book presents an interesting perspective on animals' habitats and explains why creatures' homes are constructed as they are.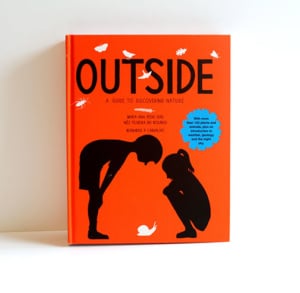 Outside: A Guide to Discovering Nature, by Maria Ana Peixe Dias and Inés Teixeira do Roasário, includes information on plants, animals, shells and rocks. In addition to illustrations and writing that inform the reader, this book goes a step beyond by encouraging readers to use their curiosity about nature to go on outings and to create art and sculpture inspired by nature. One section explains "How to become an animal detective in the city," while another refers readers to a list of nature artists to learn more about. The book's simple illustrations accompany descriptions of a wide variety of habitats and creatures.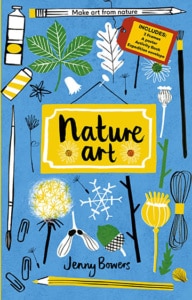 Nature Art, by Jenny Bowers, encourages readers to draw and color all over the book, and inspires children to incorporate nature in their art, with ideas for leaf and bark rubbings, pressing plants and flowers, and even painting markings on sticks after each hike, with symbols to indicate the terrain they cover and experiences they have on the journey. The hiking sticks are presented as a kind of portable cave drawing that young hikers can collect as a record of their expeditions. In addition, this book suggests equipment that can be used for collecting and exploring. The book also includes picture frames, an expedition envelope for collecting items, and a fold-out poster for creating your own art.
Inspiring a teen's curiosity and enthusiasm can sometimes be difficult, but a book and an unrelated website I came across seem to offer the magic formula.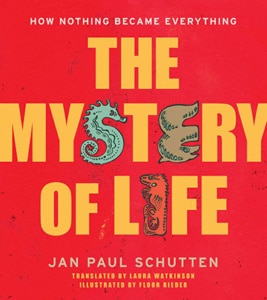 The Mystery of Life: How Nothing Became Everything, by Jan Paul Schutten, has a little bit of everything: rocks, bacteria, evolution, sea life and even Lady Gaga. The teaser on the back cover of the book asks, "Do you know what cucumbers, stinky socks, robots and Lady Gaga all have in common?" The answer appears early in the book, but an engaging writing style and array of interesting questions will keep the reader involved well beyond the first chapter.
At AlastairHumphreys.com, teens can read the writings, see the fantastic photographs, and even watch short videos to inspire getting in touch with nature. Humphreys, a British adventurer and writer, has many suggestions for getting in touch with nature without financing a trip to the Galapagos or taking an African safari. Among his enticements for those with limited time or means to devote to outdoor exploration is the "microadventure." Microadventures can be as simple as climbing a hill and eating outdoors, stargazing during a meteor shower or sleeping outdoors once a month, year-round. His honesty, both regarding his enthusiasms and his failures, gives his writing the tone of an older brother who wants you to come with him on the backpacking trip, but reminds you to pack the good hiking socks and not to forget the insect repellent.